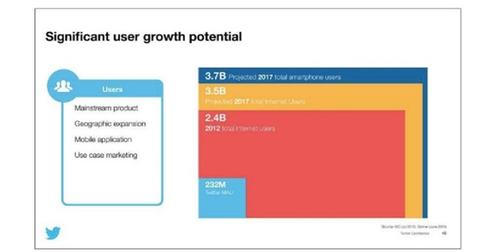 What is Twitter? An investor's guide to the company and service
By Ingrid Pan

Updated
What is Twitter?
In short, Twitter allows users to tell the world their thoughts in 140 characters or less. Users can tag other users in posts, as well as create a searchable topic using a hashtag ("#"). Twitter users can range from ordinary individuals to companies (for example, Market Realist has a Twitter account), to figures such as Barack Obama and the Pope. Many users look to Twitter to get quick updates on topics that matter to them—whether it's the thoughts of a certain celebrity or international politics.
Article continues below advertisement
Firstly, Twitter currently has 230 million monthly active users or MAUs. To give this figure some context, Facebook currently has 1.19 billion monthly active users. Twitter notes that its total userbase is only about one-tenth of total Internet users in 2012, and that the population of Internet and smartphone users will continue to grow, implying that the company has the potential to capture this audience. One of Twitter's major growth levers is indeed its ability to grow its userbase.
User engagement
Twitter users can engage directly with companies, governmental organizations, politicians, celebrities, journalists, and other prominent figures. In its presentation, Twitter uses the example of a user engaging with the famous chef Mario Batali and the rock star Gavin Rossdale.
Volume and velocity of content
With regard to sheer volume of content on Twitter, the company has noted that 1 billion tweets are created every two days. Plus, Twitter notes that the brevity of its platform (140 characters or less) encourages a velocity and real-time element to its content. The company asserts that information about many breaking news events has come through Twitter, such as the Hudson River landing in 2009.
Mobile use

Also, due to Twitter's short-form format, the platform is very friendly for use on mobile devices. Twitter notes that 76% of average monthly active users access the platform through mobile devices. As the international smartphone market grows, this also represents a growth opportunity for the company. Plus, 71% of the company's advertising revenue is generated from mobile use.
Advertising potential
With so many eyeballs, there could be a lot of value in the advertising potential of Twitter. In the first three quarters of 2013, Twitter generated $375 million in ad revenues, and Twitter believes it can rapidly grow its sales as it expands its userbase and it optimizes its advertisement programs.
The company says that its ads look natural in that there are paid tweets among content that users voluntarily subscribe to, and that the ads aren't disruptive to user experience. Ads are also targeted towards a user's interests.
While Twitter is objectively a company with potentially huge upside and definite growth potential, the current fundamentals do not support the valuation. Continue to the next part of this series to see why Twitter is like the Cronut—way overhyped.