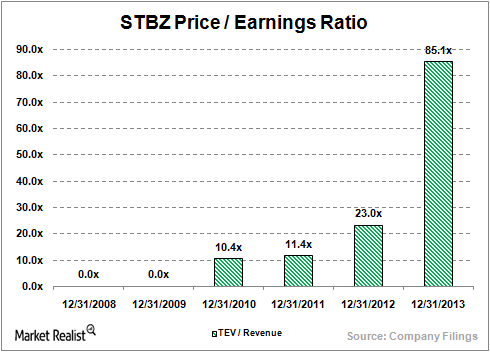 Why Einhorn sold Greenlight's position in State Bank Financial
Greenlight Capital is a hedge fund founded by David Einhorn and former co-President Jeffrey A. Keswin. Greenlight invests primarily in publicly traded North American corporate debt offerings and equities. Founded in 1996, the $5.6 billion Greenlight Capital also manages a fund of funds and a private equity fund through its affiliates, Greenlight Masters and Greenlight Private Equity Partners. It also operates Greenlight Capital Re, a property and casualty reinsurer.
In this seven-part series, we'll go through some of the main positions Greenlight Capital LP traded this past quarter.
Article continues below advertisement
The fund bought new positions in Intrexon Corp. (XON) and Tempur Sealy International (TPX) in 3Q 2013. It added to its positions in WPX Energy Inc. (WPX), Oil States International Inc. (OIS), and Spirit Aerosystems (SPR). It sold its positions in Oaktree Capital Group LLC (OAK) and State Bank Financial Corp. (STBZ)(STBZ).
Abbreviated financial summaries and metrics for these securities are included below. Detailed analysis and recommendations require a subscription (more information at the bottom of the article).
Why sell State Bank Financial Corp. (STBZ)(STBZ)?
Einhorn exited a 0.5% position in State Bank Financial Corp. He had purchased these shares in 2Q 2011. Net income for 3Q 2013 was $4.3 million, compared to $3.4 million for the third quarter of 2012. Fully diluted earnings per share were $0.13 in the third quarter. The company saw solid organic loan growth in the quarter, and crossed the 80% threshold of non-covered loans to total loans, which led to a record high level of interest income on noncovered loans. Plus, total expenses were down in the quarter, and its deposit funding mix continued to improve. The Federal Deposit Insurance Corporation (FDIC) receivable and related amortization expense on the covered loan portfolio both declined in the quarter, as it expects to continue to manage with confidence toward a soft landing for loss share expiration.
The bank recently declared a quarterly dividend of $0.03 per share.
State Bank Financial Corporation (STBZ) is the holding company for State Bank and Trust Company, one of Georgia's best-capitalized banks, with approximately $2.5 billion in assets as of September 30, 2013. State Bank has locations in Metro Atlanta and Middle Georgia.
Article continues below advertisement
Greenlight has generated about a 20% annualized return for investors. According to HedgeFundLetters.com, Greenlight Capital is a long/short value-oriented fund. The firm's investment approach is to analyze the economic value of a company and determine the alignment of interest between management and investors. It employs a bottom-up approach, emphasizing fundamental analysis, aiming to achieve high absolute rates of return while minimizing the risk of capital loss.
David Einhorn graduated summa cum laude from Cornell University with a BA in Government from the College of Arts and Sciences in 1991. Einhorn is a major contributor and board member of The Michael J. Fox Foundation. He is also on the board of the Robin Hood Foundation and a contributor to numerous charities in the New York area. He has authored the book Fooling Some of the People All of the Time.