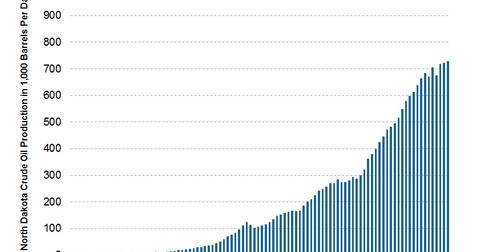 Why drilling activity in the Bakken region has been so frenzied
By Ingrid Pan

Updated
Drilling activity
Over the past few years, production activity in the Bakken region has increased at a frenzied pace. Oil production in North Dakota has grown at over a 50% CAGR (compounded annual growth rate) since 2008, driven almost exclusively by production from the Bakken and Three Forks formations.
Producers have drilled more and more wells in the area for a few reasons. First, over the past few years, oil producers have been starting to drill more "unconventional resources," many of which were uneconomic to produce before. The development and adoption of new technologies, such as hydraulic fracturing and horizontal drilling, has allowed producers to start to tap new areas like the Bakken to produce hydrocarbons. Initial success in drilling the Bakken Shale drew more and more activity into the area. Also, the Bakken produces a high oil cut (as opposed to natural gas), and the industry has favored oil production over the past several years because natural gas prices have been depressed while oil prices have remained relatively buoyant. Flush production from Bakken wells combined with high oil prices resulted in highly favorable economics for drilling in the region, and producers rushed in to lease up acreage and drill there.
Read on to the following sections to find out more about the economics of drilling in the Bakken Shale and about the area's major players.
Article continues below advertisement