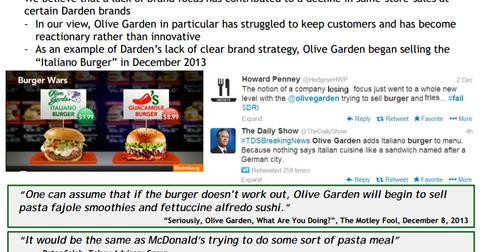 Darden updates Olive Garden's menu to target low and high checks
By Xun Yao Chen

Updated
Rethinking the menu
Olive Garden is also rethinking its core menu, which is an important step to take because customers have been fleeing the restaurant in favor of alternatives.
The team
The team gathered to work on this redevelopment includes Jim Nuetzi, who has been the executive chef at Olive Garden for the last year and executive chef at The Capital Grille for the past 11 years. This is a bit odd. The Capital Grille is one of the more premium brands within Darden Restaurant Inc.'s (DRI) portfolio. But Olive Garden's average check per guest is only $15 to $16.
A skeptical view
The introduction of the Italiano burger this year makes us skeptical. But then again, we haven't seen the full spectrum of Olive Garden's new product offerings or any of those in the pipeline. Generally, though, trying to provide a both high- and low-priced menu is difficult.
Addressing both highs and lows
Management has said it's addressing "the need its more financial stretched guests are facing," targeting for everyday value by developing more innovative entry price offerings, while still making sure the items offer great quality and represent meaningful variety.
Article continues below advertisement
If there's one key phrase that caught Market Realist's attention, it's "everyday value." Darden has over the past few years focused on promotions and discounts to lure back customers. But as Barington Capital Group recently said in its presentation, this approach is more likely than not hurting profitability and earnings. The "everyday value" focus could suggest a possible underlying change in Darden's product offerings.
While addressing the needs of more financially stretched customers, the company is also looking to increase the attractiveness of its menu to people who aren't financially constrained and prefer slightly differentiated Italian fare than what the brand has been offering recently. The team has been developing dishes at various price points, but the focus remains on higher prices.
Initial reactions have been positive
The new core menu items will target financially constrained guests and more financially comfortable guests, said Lee. Guests' initial reactions have been quite positive in places where these menu items are being tested. Many of these items and platforms are expected to be introduced across the United States by mid-2014, and further details will be provided in March's Investor Conference.
In the next few parts of this series, we'll see why higher-priced items aren't likely to work.