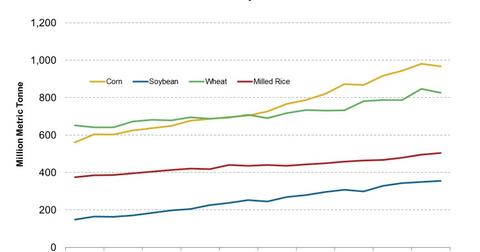 Why corn is taking over demand growth from wheat and rice
By Xun Yao Chen

Updated
Demand for corn has outpaced wheat and rice
On a global scale, demand for corn has outpaced crops like milled rice and wheat over the past ten years—but the only exception is soybeans. While demand for wheat and milled rice increased at a pace of ~1.5% since 2002, a figure that's about 1.4 times the rate of the world population growth, corn and soybean demand have risen by 3.22% and 3.49%, respectively.
Why demand for corn has outpaced alternative crops
Article continues below advertisement
Demand growth for corn has been higher compared to rice and wheat because of the crop's attractiveness as an input for ethanol input and feed. Relative to soybean, rice, and wheat, more biofuel (ethanol) can be produced on an acre of corn planted. As diets change in emerging or developing countries from more carbohydrates to more protein-based foods, demand for meat such as pork, beef, and chicken rises at a faster pace than consumption of rice and bread. To support this growth, corn and soybeans are used to raise these livestocks faster.
Corn uses the most nutrients
As the world's most-consumed crop, it's not surprising to see maize (corn) use the highest amount of fertilizers among wheat, rice, and soybean (see the chart below). When demand for corn is rising fast, prices for corn would often rise, which would be an incentive for farmers to apply more fertilizers to increase yield. So corn demand and price are important indicators that affect the performance of fertilizer stocks and ETF such as CF Industries Holdings Inc. (CF), Potash Corp. (POT), Agrium Inc. (AGU), Mosaic Co. (MOS), and the VanEck Vectors Agribusiness ETF (MOO).
Corn production is the most efficient by fertilizer input
Although farmers apply a similar amount of fertilizers for the three most nutrient-hungry crops, you may observe that farmers are getting more in terms of production out of a mt (metric tonne) of corn—assuming that global crop production equals global crop demand each year. This is an important factor that helps explain why demand for corn has been a key driver, and will be one of the fastest-growing crops in the next decade.