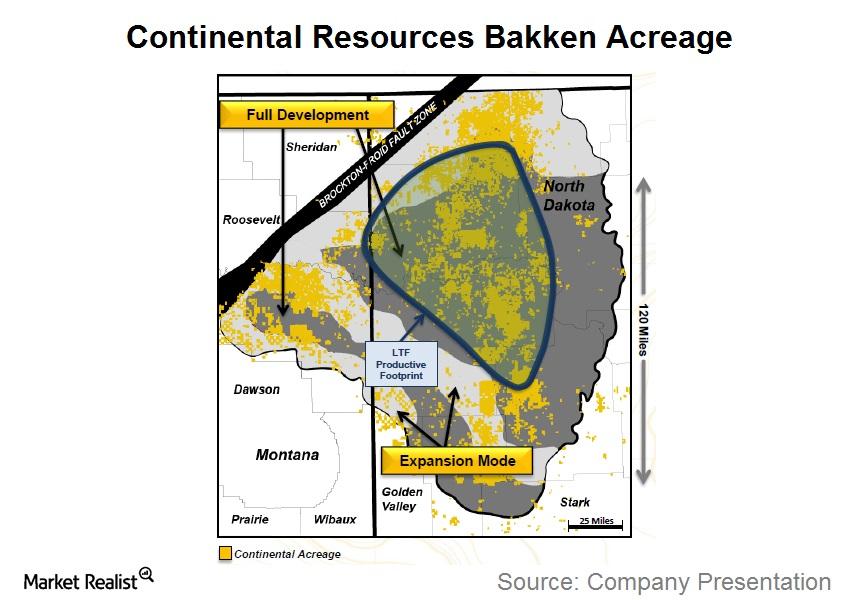 Must-know: The essentials of Continental Resources' Bakken activity
By Ingrid Pan

Dec. 9 2013, Published 8:00 a.m. ET
Continental Resources and the Bakken
Continental Resources (CLR) was one of the early movers into the Bakken. Currently, it has the largest leasehold position in the area, with 1.2 million net acres. The company also states that it's the most active driller and number-one producer in the region. With its large position, it's often considered the bellwether of the Bakken Shale play.
Summary Facts
Bakken Acreage: 1.2 million net acres
2013 Bakken Capex: ~$2.1 billion
2014 Bakken Capex: ~$2.5 billion
3Q13 Bakken Production: ~95 thousand barrels of oil equivalent per day
3Q13 Total Company Production: ~142 thousand barrels of oil equivalent per day
Percentage Bakken Production: 67%
Market Cap (12/4/13): $20.3 billion
Enterprise Value (12/4/13): $24.7 billion
3Q13 EBITDAX: $798 million
2014 Consensus EBITDAX: $3.7 billion
EV/3Q13 Annualized EBITDAX: 7.7x
EV/2014 Consensus EBITDAX: 6.7x
Article continues below advertisement
Note that the Bakken makes up about two-thirds of Continental's current production, with most of the other one-third coming from its SCOOP play in Oklahoma. CLR also directs about two-thirds of its capital expenditures towards the Bakken. One trend of note is that the company has been successful in continuing to lower its well costs.
The company is also working on down-spacing tests (drilling more wells on the same amount of acreage) with results to be reported in early 2014. Another key point from Continental's last earnings call (3Q13) was its discussion of its Antelope play, which it characterizes as "one of the most productive areas to be significantly drilled in the Bakken." The company notes that in this area, it plans to operate four rigs through 2014, with drilling on large multi-well pads with up to 30 wells on a pad, which it calls "meg-pads."
Overall, Continental expects to grow from ~50 million barrels of oil equivalent of production (mmboe) in 2013 to 64 mmboe in 2014 (28% growth), and up to over 108 mmboe in 2017. This is more than a 20% CAGR (compounded annual growth rate).
Continental notes that while pricing at Clearbrook, Minnesota (considered a hub for Bakken crude oil), has weakened, it's "putting virtually no oil into Clearbrook," as it's placing oil into other places, like refineries on the East Coast, where it receives better pricing. We'll discuss differentials (price variations) for Bakken crude later in this series.