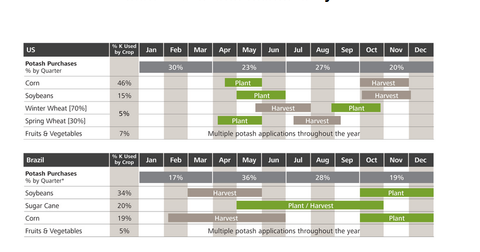 Can potash investors account for seasonality? Effective ideas
By Xun Yao Chen

Updated
Seasonality
When you invest in agriculture, you must think like a farmer. At the end of the day, farmers are the ones who decide whether to purchase potash fertilizers. One key point that investors should note is the seasonal nature of potash sales.
Regions
In the United States, approximately 46% of potash is used for corn production. This makes corn price a key driver that affects potash shipments in the United States. From 2010 to 2012, the first and third quarters of a year have historically been strong, as farmers make purchases before planting crops.
Article continues below advertisement
In Brazil, the majority of potash has been purchased during the second and third quarters of the year. Roughly 34% of potash in Brazil is used for soybeans, while 19% of it was used for corn. The second and third quarters tend to be strongest because they're after the harvest and before planting periods. High seasonal demand before plantation and after harvests also follows for countries like China and India (see below).
Seasonal sales
Accordingly to Mosaic Co. (MOS), the strongest demand for its fertilizer (potash and phosphates) "typically occurs during the spring planting season, with a second period of strong demand following the fall harvest." Fertilizer producers, on the other hand, tend to produce their products throughout the year to minimize hiring and laying off.
Impact on inventory
As a result, companies like Agrium Inc. (AGU), Mosaic Co. (MOS), Potash Corp. (POT), and Intrepid Potash Inc. (IPI) tend to build inventories during the low demand periods of the year in order to meet strong demand during peak sales seasons. However, it's also crucial to note that seasonal factors can vary significantly from one year to another due to weather-related shifted in planting schedules and purchasing patterns.
This means that when investors look at key drivers such as potash prices and inventory levels to assess current supply and demand balance in the industry, they should use year-to-year growth to account for seasonal trends but never forget to follow month-to-month changes to assess supply and demand dynamics and balance.