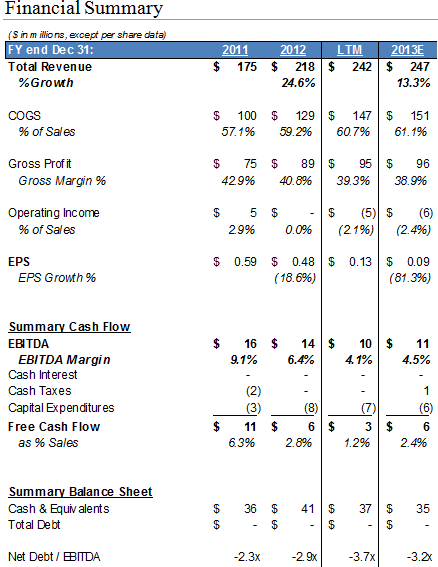 Why is CafePress stock trading at a fraction of company revenue?
By Judy Krandel, MBA

Oct. 29 2019, Updated 5:19 p.m. ET
Market overview

The personalized segment is extremely fragmented, with most of it served through offline businesses. Industry estimates range from $25 billion to $1 trillion, depending on which category of products and which geographies one includes. Today, PRSS is mostly a domestic business with only 15% of the business overseas, mostly in Europe.
The business is highly seasonal, with about 40% of business coming in the fourth quarter. There is a large retail component and, of course, holiday giving is a big season.
Article continues below advertisement
Growth strategy

PRSS has grown both internally and through acquisitions. Over the past three years, the company has acquired a number of businesses to expand its categories (i.e., canvasondemand.com), customers (logo sportswear—to offer personalized apparel for groups and organizations), and technology offerings (EZ Prints). The EZ Prints acquisition is significant, as it offers proprietary software that helps power the customization services for third-party retailers. EZ Prints had over 130 partners (including Disney) using its end-to-end customization solution at the time of acquisition. PRSS has used a combination of upfront payments and earn-outs to complete these deals. There was a time that the backend earn-out liability was significant. The company has worked through much of this at this point, including writing off part due to underperformance from the EZ Prints acquisition. EZ Prints had some legacy business that has underperformed, but this doesn't change the power and importance of the technology.
Competition and risks

PRSS competes with traditional offline printing businesses, catalog retailers, and e-commerce players like Amazon, Vistaprint, Zazzle, Art.com, and other customized sites. This is and will always be an extremely competitive market—and that is the number-one risk to the business. Yet it also allows creative and strong technology players like PRSS to grow share and acquire niche tuck-in situations. Other risks include copyright or trademark infringement from user-generated content. There is a potential liability for user content due to things like racism and pornography. PRSS does maintain strict content usage policies to try to avoid such situations.
Management

Top management has been with the company for some time now. Key members include the following.
Article continues below advertisement
Bob Marino is the CEO. He joined the company in 2005 and the board in 2011. He started in operations and grew up from there. Prior to joining PRSS, he served as CEO of Cuisine Innovations and a VP of Tyson Foods.
Monica Johnson has been the CFO since 2005. Prior to joining PRSS, she was the CFO of ARC International, and VP of Finance at Webvan.
Fred Durham is the co-founder of PRSS and the chief product officer. He is a serial entrepreneur and has extensive experience in the e-commerce industry. He owns about 10% of the company. Another 16% of the company is owned by the original VC, Sequoia Capital. I can't imagine they are happy with the stock performance and must be considering all ways to get fair value here.
What went wrong?

So why is the stock $6? Possible reasons are as follows.
Management was not prepared to be public.
The company went public on unrealistic projections and used the past to linearly project the future. The company missed estimates and alienated the sell-side.
The business model was too reliant on search—in particular, Google search. A few years ago, Google changed its search algorithms, which affected traffic negatively for many small sites. This change hurt traffic on many of PRSS's small shop clients, as they found it hard to stay relevant in search results. Search traffic is also expensive traffic, given the revenue share that Google takes.
The company's European business was hurt from the recession.
The company did not fully flesh out its business model. Who is the customer? How do they reach the customer and at what cost? Who makes the best partners?
The company completed a number of acquisitions in a short time and did not appropriately value them and integrate them.
In 2008, the company got a 10% lift from election-related content. Obama was new and exciting. PRSS did not see nearly the same lift in 2012, which it expected.
Earnings and cash flow in 2013 are severely hurt due to one-time investments to consolidate facilities and integrate acquisitions. The company has been running duplicative facilities to insure no disruption during this transition. This is expected to be completed by the end of 2013.
Let me repeat #1: Management was not prepared to be public.
What is going right?
Valuation—the stock is $6 and trades for a fraction of revenues, with a year-end estimated net cash balance of at least $30 miillion and positive EBITDA. It has been thrown out for dead.
PRSS is a pioneer and leader in online customization—a huge and growing worldwide market. The company has 19 million members and growing and a large proprietary content library.
PRSS is building a powerful e-commerce platform focused on best-in-class scalable technology.
The CEO is a visionary with a strong marketing and operating background.
The company is starting to develop appropriate financial disciplines and a focused business model.
The company is consolidating redundant facilities to create a more streamlined and profitable business with room to scale.
Key acquisitions like EZ Prints have broadened the business model and opened up opportunities for additional b2b partnerships.
The company continues to be EBITDA-positive despite short-term operational issues and incremental investments.
PRSS has licensing agreements with major entertainment players like Marvel. This offers a huge new opportunity.
The company is launching a number of new sites with Fortune 500 companies that will add new business in 2014 and beyond.
With $250 million in revenues, the company's size makes it an attractive acquisition candidate by a larger ecommerce player.
Positive ROI on new customer acquisition investments.
Article continues below advertisement
What is PRSS worth?

PRSS today trades for 0.32x sales and 6x EBITDA. EBITDA is depressed this year by one-time investment spending of $5 million to complete the plant consolidation. If you adjust for that, the company is trading at an EV/EBITDA of 5x—food for thought as one considers comparable situations.
There are a number of companies that I believe PRSS should be compared to when considering the appropriate valuation. Although no one is a perfect match, many have similar business models, characteristics, customer profiles, et cetera. The most important message I want to express is the company has a value to consumers and business alike. It has a b2b and b2c and b2b2c component all tied in to one business. This past year of acquisitions, integration, broadened distribution, and frankly, catching up on direction and focus has hurt earnings and clouded the value of the business.
The Market Realist Take
Adjusted EBITDA declined to $0.6 million in 3Q from $1.4 million in 3Q 2012, reflecting the impact of the company's previously announced investment in consolidating its manufacturing operations to its flagship plant in Louisville. The company expects to post improved sequential EBITDA margin during the fourth quarter and to generate significant cash from operations, resulting in a strong balance sheet as it exits the year.
Article continues below advertisement
CafePress continued to upgrade and optimize its e-commerce sites network during 3Q to focus both on user experience and conversion. This includes the release of new tools to streamline customized e-commerce product creation and integration with social and mobile media, which remained major focus areas. The company's revenue from social media channels was up 165% year-over-year, and the company is expanding its social media presence via high-impact programs and campaigns on Facebook. It's benefiting from these conversions especially from Facebook. The launch of a new mobile version of CafePress has supported seamless cross-device consumer experience across smartphones, tablets, and desktops and it has improved page load time by 30%. CafePress said charities are also benefiting from its innovative fundraising platform called Tphones.com, which helps raise funds via t-shirt sales with no inventory.
Small shops and CafePress services, which are a hybrid of the corporate shops of both EZ Prints and CafePress, represented approximately 15% of revenue in 3Q. Smaller shops remain a challenge from a revenue perspective, impacting growth rates by approximately 3 percentage points in the quarter. CafePress expects this trend to continue.
From an operations perspective, the company said it's well prepared for the holiday season, as its plant consolidation process has gone smoothly. It expects to exit the year with a more efficient business and an improved cost structure.
CafePress peer Shutterfly's (SFLY) stock price is up 45% year-to-date, while Vistaprint (VPRT) is up 37%. PFS Web (PFSW) has seen a 100% increase year-to-date. Shutterfly's business is highly seasonal, and the market for digital photography products and services is large, evolving, and intensely competitive. But the company has maintained its growth via acquisitions and by expanding into mobile technology services. It recently acquired premier photography and videography gear rental service BorrowLenses. With this acquisition, it said it expects to gain an ability to diversify its revenue streams, reduce fourth quarter seasonality, and improve up-sell and cross-sell opportunities among its family of brands. Vistaprint said on its August 7 analyst day that, given the challenges it faces in its biggest market, Europe, it no longer expects to grow at the projected 20% rate announced two years ago. However, as it exits the most intensive investment period of its multi-year strategy, it believes it's at the beginning of a consistent, sustained, and multi-year ramp of both its net income margins and its earnings per share.