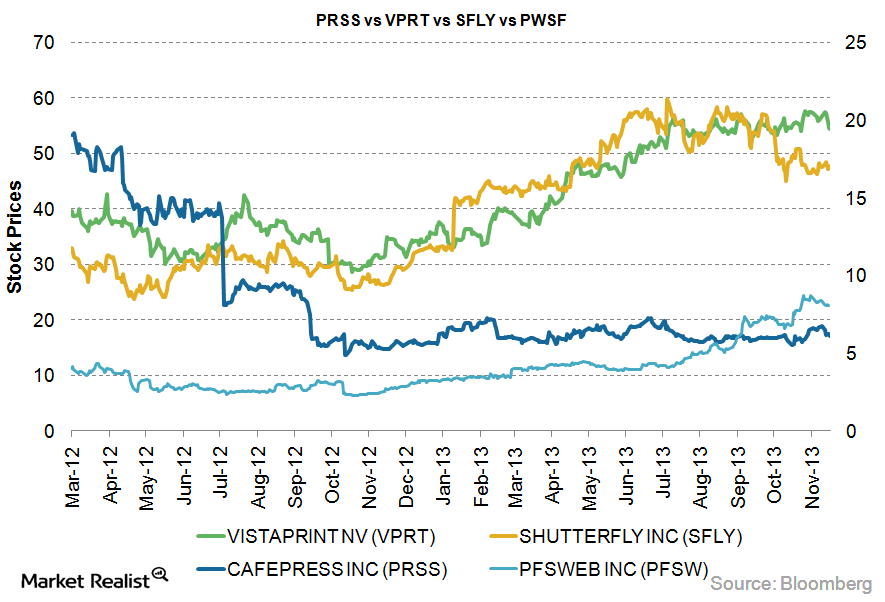 Must-know relative value and analysis of e-commerce companies
By Judy Krandel, MBA

Oct. 29 2019, Updated 5:20 p.m. ET
GSI Commerce
GSI was the first public company to focus on e-commerce fulfillment and distribution for other companies. eBay bought the company a few years ago for a significant multiple of revenues and even more so of EBITDA. The founder of GSI Commerce then went on to start a new related business called Fanatics.
Dreams, Inc.
Dreams was public until recently, when it was bought by a private company called Fanatics. The founder of Fanatics had founded GSI Commerce, which he sold to eBay. Dreams was also in the ecommerce fulfillment and distribution business—but focused entirely on sports apparel. Dreams had the license to many professional and college sports content and was the backend marketing and fulfillment for many sports-related sites and businesses. This was acquired for over 1x revenues, 30x trailing EBITDA, and 14x forward EBITDA. The company had signed a few deals that gave them visibility on big forward growth.
PNI Digital Media (Toronto: PN)
Article continues below advertisement
This is an e-commerce company that provides transaction processing and order routing services by connecting consumers with ordered digital content with retailers. This company is mostly involved in digital pictures and, to a lesser degree, stationery. This company has had declining revenues and EBITDA for four straight years. This company is currently trading for 1.3x revenues and 33x EBITDA.
PFS Web (PFSW)
This company is a provider of end-to-end e-commerce solutions. PFSW has no proprietary content or library of content. The company is primarily domestic, although recently, it received an investment from a Japanese company and now has an Asian partner to help build the international business. The company also has a declining products and distribution business, which is not worth much. The company is currently trading at 0.4x revenues and 10x EBITDA.
Speed Commerce (SPDC)

Article continues below advertisement
This company recently changed its name from Navar (NAVR). SPDC also is a provider of end-to-end e-commerce solutions with no proprietary content. SPDC has a very small international business. Navar originally bought Speed Commerce for about 1.1x sales and 9x EBITDA. SPDC today consists of its e-commerce business plus a product distribution business. The products business is by far the majority of its sales so the comparisons are not quite apples-to-apples. At the beginning of 2012, before Navar acquired Speed, it was trading at an EV/sales of about 0.1x. That is how little the Street valued the business. Today, the company is trading at an EV/sales of 0.45X (with still the majority of its sales in the old products business) and 12x EBITDA.
Vistaprint (VPRT)
VPRT is an online supplier of graphic design and customized printed products to small businesses and consumers. This is one of a very few public companies that offers its customers the ability to truly customize the end product. The company does have high gross margins (65%), as it pays no royalties and its cost of goods is very low. Customer acquisition cost is more than twice what PRSS pays, so the net contribution of a new customer is similar to that of PRSS. VPRT trades for 1.5x sales and 10x EBITDA.
Shutterfly (SFLY)
Article continues below advertisement
SFLY produces and sells professionally bound photo books, greeting and stationery cards, personalized calendars, and other photo-based merchandise. This company also offers customization features to its customers, although it's very narrow in its photo niche. Gross margins are also high, at 54%, yet customer acquisition cost is also much higher than that of PRSS. The company trades for 2.2x sales and 11x EBITDA.
Shutterstock (SSTK)
SSTK is a global provider of licensed photographs, illustrations, and videos to businesses and marketing agencies. The company does license proprietary content and allows its use in a customized fashion. Again, this is a high–gross margin business at almost 62%. The company trades for 10x sales and 48x EBITDA.
The Market Realist Take
CafePress said in its annual report that the market for customized products and services is large, fragmented, and intensely competitive. It expects growing competition from a wide range of companies, including the following.
Small traditional offline printing businesses for stationery and invitations, photographic products, or other customized products
E-commerce companies, including large online retailers like Amazon.com (AMZN) and eBay (EBAY) (which also serve as its distribution partners)
Physical and catalog retailers of personalized merchandise like Red Envelope, American Stationery, and Things Remembered
Online providers of customized products like CustomInk, Spreadshirt, Threadless, or Zazzle as well as providers of unique goods like Etsy or Uncommon Goods
Online providers that allow users to customize goods in specific vertical markets, like VistaPrint (VPRT) for small businesses and Shutterfly (SFLY) or SmugMug for photographic products, Minted, Smilebox, or Blurb for specific stationery and book products, and Art.com for wall art products
Small but numerous online providers that address niche customization services and product offerings, enabled by advances in digital printing technologies
CafePress also indirectly competes with Internet portals and shopping search engines that are involved in e-commerce or that sell products or services either directly or in collaboration with other retailers. If more companies begin selling customized products, it will face more direct and intense competition. It added that the principal competitive factors in its industry include favorable brand recognition and trust, technological expertise, quality, breadth, and type of product and services, ability to source products efficiently and cost-effectively, ease of use and convenience, ability to anticipate and quickly adapt to changing customer demands and customer service needs, ability to recruit talent, competitive pricing, and effective marketing.