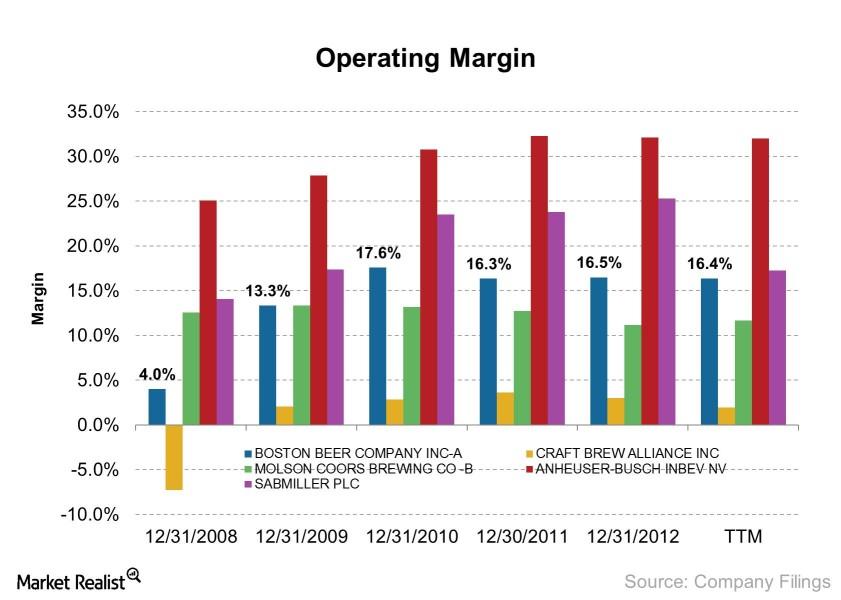 Why Boston Beer Company is playing the Japanese car strategy card
By Xun Yao Chen

Aug. 18 2020, Updated 5:25 a.m. ET
More than just revenue growth
Investors shouldn't only expect Boston Beer Company's sales growth of approximately 17% to translate into equal growth in earnings. Compared to larger brewers like SABMiller and Anheuser-Busch Inbev, Boston Beer Company is still relatively small, with only $3 billion in market cap. This means there's a lot of room for the firm to expand earnings via economies of scale (when fixed cost could spread over larger quantities).
Margins: Room for expansion
Article continues below advertisement
As the chart above shows, both Boston Beer Company's operating margins trail behind the two giants by a significant amount. Perhaps the largest savings that SAM and shareholders could pocket in the future is in advertising, sales, and marketing expenses. While the company reports transportation costs to wholesalers within this category of expense, this category of cost makes up about 27.5% of the company's revenue. In contrast, Anheuser Busch Inbev spent 21.4% of its revenue on advertising over the past four quarters.
Japanese car manufacturing: An important analogy
If Boston Beer Company continues to grow, then we could see lower margins in the future. However, sometimes it may be a good idea to keep margins low, like Japanese car producers did in the 20th century. Rather than going after high margins and returns, their strategy was to gain market share in the U.S. car market while focusing on providing cheaper and more valuable cars. Over time, Japanese car manufacturers had wiped companies like Ford and General Motors out. Given that Boston Beer Company's margins have stayed relatively stable over the past few years, it seems like the company's current strategy is to promote awareness of its brands rather than leaping on more immediate profits—an approach that the craft beer segment needs.
Already high returns on tangible assets
Article continues below advertisement
While still maintaining relatively high margins, the company's return on tangible assets is another indicator that shows the company's effective use of capital. We excluded intangible and goodwill accounts, which include trademarks and acquisition premiums, in order to make better comparisons of companies' abilities to earn excess or economic return. This excludes the impact of acquisitions that large companies have made over the years to be the last standing survivors.
Clearly, the above chart shows that Boston Beer Company's business model looks more attractive. Whether Boston Beer Company can maintain such high returns is something for investors to consider, but high returns generally reflect certain factors that allow the firm to fend off competition. Companies with strong returns tend to outperform against those with lower returns.
Note: Boston Beer Company is part of the PowerShares Dynamic Food & Beverage ETF (PBJ). Molson Coors Brewing Company (TAP) is part of First Trust Consumer Staple Alpha Fund ETF (FXG).