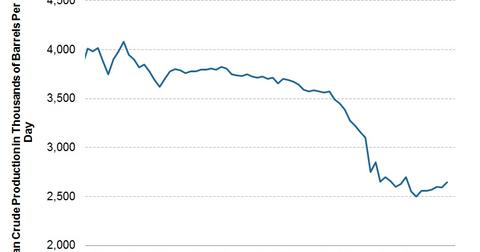 Why some think Iran negotiations won't affect current oil prices
By Ingrid Pan

Updated
Iran's crude oil production
Iran traditionally has been a major supplier of the world's crude oil. From 2008 through 2011, Iran produced on average 3,500 to 4,000 thousand barrels per day, or roughly 5% of world oil production during that time. However, in 2012, the U.S. and EU tightened sanctions on the country because of concerns over Iran's nuclear activity, which affected the country's ability to export crude oil. Iran's crude production fell from ~3.7 million barrels per day in 2011, to ~2.8 million barrels per day in November 2013.
Article continues below advertisement
In late November, the country entered into an agreement to loosen sanctions with major countries, including the U.S., UK, France, Russia, China, and Germany regarding its nuclear program. However, many parties, including the EIA, don't foresee an effect on Iran's oil exports for at least the next several months.
Part of the actions against Iran in mid-2012 included sanctions on insurance and transportation by the EU. When the sanctions were first imposed, certain importers of Iranian crude had a hard time finding insurance and Iranian exports fell greatly. Around August and September of 2012, Iran was able to export somewhat more crude oil, as Japan, South Korea, and India's governments began to issue guarantees on the transportation of Iranian crude oil. Plus, China and India began to accept guarantees from an Iranian insurer. The EIA notes that the November agreement lifts the shipping insurance ban, but the countries that needed to import Iranian crude have already found alternate solutions. So the suspension of the ban isn't likely to cause Iran's crude exports to increase significantly in the short term.
Also, another result of the sanctions was the prohibition of investment in Iran's energy sector. The lack of investment hurt the country's ability to produce crude, and even if all sanctions lifted, investment in projects like drilling wells is still needed to increase production. The International Energy Agency, an autonomous organization focused on energy policy, stated, "Meaningful increases in production would require a longer period and additional investment in Iran's upstream, and thus would take time to materialize." Consequently, the current negotiations around Iran's nuclear program aren't likely to have a major immediate effect on global oil supply or prices. The effect, if any, would likely be long-term. Oil prices are a major driver of earnings for producers such as ExxonMobil (XOM), Chevron (CVX), Hess (HES), and Pioneer Natural Resources (PXD), as well as energy ETFs such as the Energy Select Sector SPDR (XLE).