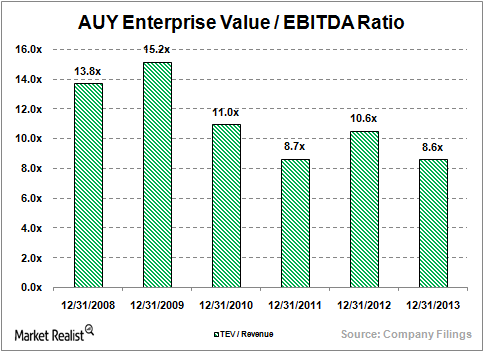 Baupost Group opens PBF position, raises MU and THRX share, and sells AIG, AUY, and KGC—13F Flash E
The Baupost Group, LLC, is a hedge fund founded and run by Seth Klarman in 1982. Its investment approach emphasizes risk management. The firm, one of the largest hedge funds in the world, is a value investing manager. It has about $30 billion in assets under management.
Abbreviated financial summaries and metrics for these securities are included below. Detailed analysis and recommendations require a subscription (more information at the bottom of the article).
Baupost started a new position in PBF Energy (PBF), increased positions in Micron Technology Inc. (MU) and Theravance Inc. (THRX), and sold American International Group (AIG) as well as gold miners Yamana Gold Inc. (YRI) and Kinross Gold Corp. (KGC).
Why sell Yamana Gold Inc. (AUY)?
Article continues below advertisement
Yamana Gold revenues were down 25%, to $456.7 million, in 3Q 2013, compared to $611.8 million in 3Q 2012. Adjusted earnings were $69.5 million (or $0.09 per share), down from $177.6 million (or $0.24 per share) a year ago. The lower earnings were attributed mainly to lower realized commodity prices and lower equity earnings from the company's 12.5% of interest in Alumbrera. Its earnings from Alumbrera Mine were $3.1 million for 3Q 2013, compared with earnings of $20.6 million for the same period of 2012. The decrease in equity earnings was mainly due to lower revenues as a result of lower metal prices and lower sales volume of concentrate, gold, and copper. Lower metal prices accounted for 74% of the variance in revenues in comparison to the third quarter of 2012, representing approximately $0.15 per share in earnings. The lower cost of sales, including depletion, depreciation, and amortization expenses, corresponded to lower sales volumes of gold and copper.
Due to the current volatile gold price environment that puts margins at risk, the company has initiated cost containment and margin reclamation initiatives to focus on quality of ounces produced measured by contribution to cash flows instead of production volume alone. These initiatives are consistent with the company's established focus on cash flow generation. It said these initiatives have progressed since they were announced in the second quarter. The cost reduction program is expected to generate savings of over $140 million, or approximately $115 million directly, reducing all-in sustaining co-product cash costs and the remaining savings relating to expansionary capital.
Article continues below advertisement
Given the current metal price environment and significant precious metal volatility, the company continues to align its production expectation with the new price environment. It said the previous guidance for 2013 largely depends on the sustainability of margins—particularly at the newly constructed mines—and expansions as they ramp-up and transition to full operations. It won't sacrifice margin or compromise cost structure for volume growth until it believes costs are contained, so that new production will generate margins in current and lower metal price environments. Once costs have stabilized at lower levels, the focus will return to maximizing production growth while generating cash flows, and free cash flows will always be the core focus. For the balance of 2013, the cost structure is expected to continue to improve over first quarter levels as the benefit of cost improvements are realized through the expenditure reduction program, which will continue into 2014. Yamana, which operates mines in Argentina, Chile, Brazil, and Mexico, expects a significant increase in production in the fourth quarter at its Gualcamayo mine in Argentina that has transitioned to a new phase III. The stock price is down 48% year-to-date. Recent news reports said it will invest $450 million to begin operations in the Patagonia gold mine in Argentina by the end of next year.
Yamana is a Canada-based gold producer with significant gold production, gold development stage properties, exploration properties, and land positions throughout the Americas, including Brazil, Argentina, Chile, and Mexico. Yamana plans to continue building on this base through existing operating mine expansions, throughput increases, new mines development, exploration properties advancement, and
by targeting other gold consolidation opportunities with a primary focus in the Americas.
Baupost founder Seth Klarman is also the author of a book on value investing titled Margin of Safety: Risk-Averse Value Investing Strategies for the Thoughtful Investor. In his book, Klarman explains the margin of safety as "buying assets at a significant discount to underlying business value, and giving preference to tangible assets over intangibles."
Klarman is a graduate of Cornell University and Harvard Business School. Before founding Baupost, Klarman worked for Max Heine and Michael Price of the Mutual Shares fund (now part of Franklin Templeton Investments). Despite his unconventional strategies, Klarman has consistently achieved high returns. He's a very conservative investor, and he often holds significant amounts of cash in his investment portfolios. He often makes unusual investments, buying unpopular assets while they're undervalued, using complex derivatives, and buying put options. He's known to keep a very low profile, but he has considerable influence. He has been called the "Oracle of Boston" and is also sometimes referred to as "the Warren Buffett of his generation."