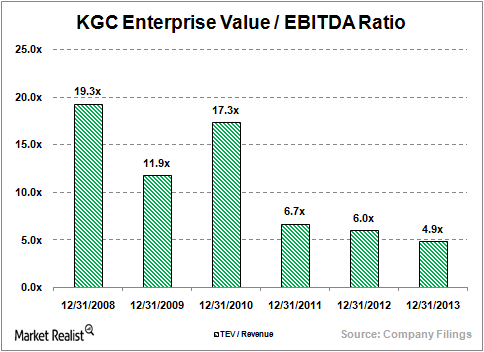 Baupost Group opens PBF position, raises MU and THRX share, and sells AIG, AUY, and KGC—13F Flash F
The Baupost Group, LLC, is a hedge fund founded and run by Seth Klarman in 1982. Its investment approach emphasizes risk management. The firm, one of the largest hedge funds in the world, is a value investing manager. It has about $30 billion in assets under management.
Abbreviated financial summaries and metrics for these securities are included below. Detailed analysis and recommendations require a subscription (more information at the bottom of the article).
Baupost started a new position in PBF Energy (PBF), increased positions in Micron Technology Inc. (MU) and Theravance Inc. (THRX), and sold American International Group (AIG) as well as gold miners Yamana Gold Inc. (YRI) and Kinross Gold Corp. (KGC).
Why sell Kinross Gold Corp. (KGC)?
Article continues below advertisement
The company's 3Q 2013 revenue was down 21%, to $876.3 million, compared to $1,109.7 million in 3Q 2012. The company reported $0.05 earnings per share (or EPS) for 3Q, down from $0.22 a year ago. However, it said its portfolio of mines has delivered its fifth consecutive quarter of strong performance. In the second quarter, the company accelerated its cost-reduction efforts to bring the focus of its operations to cash flow, cost control, and quality over quantity. It said it has completed its review of corporate and regional overhead and has identified approximately $20 million in expected annual cash savings. Cost-saving measures include integrating the North and South America regions into a single Americas region. It has lowered its 2013 capital forecast to $1.4 billion and expect its 2014 forecast to be in the range of $800 million to $900
million. It also expects a reduction in workforce by about 1,000 people as a result of various measures it has undertaken in 2013.
Kinross saw a rise in production compared to the previous quarter and has therefore increased its production guidance to between 2.6 million and 2.65 million gold equivalent ounces. Commercial production has now commenced at its Dvoinoye mine in Russia, which is expected to contribute 235,000 to 300,000 incremental ounces of low-cost gold equivalent production annually to Kupol mine in each of its first three full years of
operation. Also, the feasibility study of Tasiast project in West Africa remains on schedule for expected completion in Q1 2014. The company said a strong balance sheet, with $991 million in cash and modest net debt, puts the company ahead of the curve in an uncertain gold market and positions Kinross well for the future.
Declining gold prices and increasing mine development costs have impacted gold miners' earnings. The stock price is down 51% year-to-date. Its peers include Barrick Gold (ABX), Newmont (NEM), Yamana Gold (AUY) and Goldcorp (G).
Baupost founder Seth Klarman is also the author of a book on value investing titled Margin of Safety: Risk-Averse Value Investing Strategies for the Thoughtful Investor. In his book, Klarman explains the margin of safety as "buying assets at a significant discount to underlying business value, and giving preference to tangible assets over intangibles."
Klarman is a graduate of Cornell University and Harvard Business School. Before founding Baupost, Klarman worked for Max Heine and Michael Price of the Mutual Shares fund (now part of Franklin Templeton Investments). Despite his unconventional strategies, Klarman has consistently achieved high returns. He's a very conservative investor, and he often holds significant amounts of cash in his investment portfolios. He often makes unusual investments, buying unpopular assets while they're undervalued, using complex derivatives, and buying put options. He's known to keep a very low profile, but he has considerable influence. He has been called the "Oracle of Boston" and is also sometimes referred to as "the Warren Buffett of his generation."