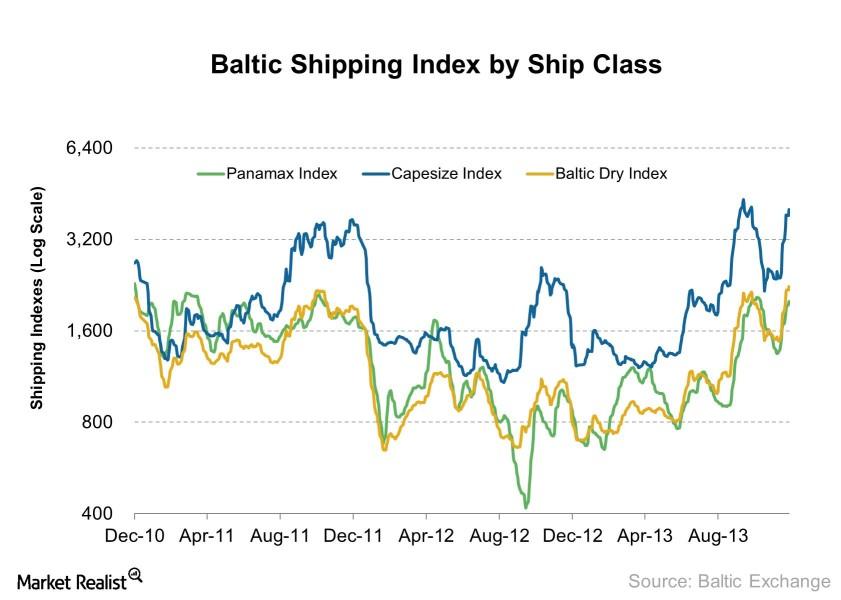 Outlook: Baltic Dry Index hits a new high of 2,337 this year
By Xun Yao Chen

Dec. 19 2013, Published 4:00 p.m. ET
Supply, demand, and rates
The combination of supply and demand of ships results in the shipping rate. The most commonly followed shipping indexes by industry professionals are the Baltic Exchange's Shipping Indexes. Rising rates reflect a tightening supply and demand balance (similar to fleet utilization), while falling rates indicate the opposite.
The Baltic Dry Index stood at 2,237 on December 10, 2013. Indexes for Capesize vessels stood at 4,011, while Panamax vessels approached close to 2,000, at 1,997. All three indexes have moved up together since the last few days of November. On December 12, the BDI stood at 2,337.
Article continues below advertisement
Rates have come a long way since the lows of 2012 and earlier this year on the back of lower new build deliveries and stabilization in China's economic activity. Rates skyrocketed from mid-August to early September this year due to an earlier iron ore stocking activity in China. That surprised the market and pushed many stocks—like DryShips Inc. (DRYS), Navios Maritime Partners LP (NMM), Navios Maritime Holdings Inc. (NM), Safe Bulkers Inc. (SB), and Diana Shipping Inc. (DSX).
Rates fell later, as higher shipping rates likely deterred additional hires and ships returned from their voyages. The market questioned whether it was just due to seasonality or whether there was a fundamental shift going on. We think it's a combination of the two. The recent increase likely reflects end-of-year restocking activity, and it's likely to turn down in a few more weeks due to seasonality.
Year-to-year change is positive
While seasonal peaks and troughs can differ from year to year depending on weather and purchase behavior, we can use the year-to-year change to make a basic adjustment. Indeed, what we're currently experiencing is a volatile change in rates, which has been suggested by many shipping managers in recent earnings calls.
Higher rates are short- to medium-term positive
If rates continue to grow in positive territory overall, which is what most managers are calling for, dry bulk shippers should earn higher rates, earnings, and cash flows over the short to medium term. We say "short to medium term" because there are more than just the Baltic Dry Index that affects movements in dry bulk shipping companies like the companies mentioned earlier. This also applies to the Guggenheim Shipping ETF (SEA) as well.
Drawbacks
While timely, shipping rates are volatile. This is one drawback of the indicator. We present a smoother indicator in the next part of this series.