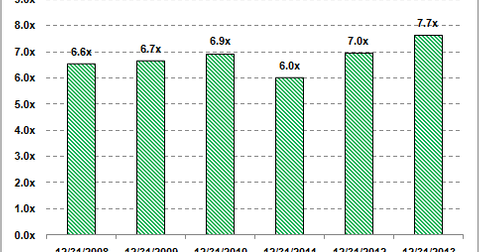 Appaloosa Management starts new positions in FCX, INGR, CYH, THC and sells MSFT, CMCSA—13F Flash E
By Samantha Nielson

Updated
Appaloosa Management is a hedge fund founded in 1993 by David Tepper and Jack Walton. It's based in Short Hills, New Jersey. Appaloosa Management invests in public equity and fixed-income markets around the world. It has about $20 billion in assets under management.
Abbreviated financial summaries and metrics for these securities are included below. Detailed analysis and recommendations require a subscription (more information at the bottom of the article).
In this six-part series, we'll go through some of the main positions Appaloosa Management traded this past quarter.
Appaloosa started new positions in Freeport-McMoRan Copper & Gold (FCX), Ingredion Inc. (INGR), Community Health Systems Inc. (CYH), and Tenet Healthcare Corp. (THC) and it sold Comcast Corp. (CMCSA) and Microsoft (MSFT).
Why sell Microsoft (MSFT)?
Article continues below advertisement
Microsoft saw positive earnings that beat analyst estimates in its recent 1Q 2014, despite its core businesses being vulnerable to the decline in the PC market. Net income rose 17% to $5.24 billion, or $0.60 a share, in the fiscal first-quarter from $4.47 billion, or $0.53 a share, in the previous year period. It said on its earnings call that the PC market is showing signs of stabilization and growth was better than expected. Its devices and consumer revenue grew 4%, to $7.46 billion, while commercial revenue grew 10%, to $11.20 billion. The company said its enterprise revenue remained strong despite a tough macro environment, and that high customer satisfaction is driving a high enterprise agreement renewal rate. Microsoft made meaningful progress in its consumer business, including office 365 Home Premium, Skype, Bing, and SkyDrive. In terms of outlook, it expects the enterprise business to remain strong and anticipates that Surface, Xbox One, and a host of devices from its partners will do well in the upcoming holiday season.
In July, the company's stock plunged after its 4Q 2013 profit missed analysts estimates by a huge margin on the back of weak demand for PCs. It also saw a lackluster demand for its Surface RT tablet, resulting in a $900 million charge on the inventory. According to news reports, the company has seen a lukewarm response for its Surface 2 tablet, which launched in October 2013.
The departure announcement of CEO Steve Ballmer on August 23 and the hunt for his replacement led to a spike in the company's share price, but gains were erased when Microsoft announced the acquisition of Nokia's phone business in a $7.2 billion deal on September 2.
Article continues below advertisement
With this acquisition, Microsoft aims to accelerate the growth of its share and profit in mobile devices through faster innovation, increased synergies, and unified branding and marketing. Microsoft expects this acquisition will help it grow its footprint in the mobile market through better integration of the Windows Phone OS with Nokia's hardware. According to Microsoft's strategy rationale presentation for investors, it expects to acquire a 15% market share in the smartphone market by 2018 with Nokia's support. In its annual shareholders conference, held in November, Microsoft said it has begun the transformation to a devices and services company. And with the One Microsoft realignment, it has improved the way it brings innovative products such as Surface, Windows 8.1, and Office 365 to the market.
The company's board of directors recently declared a quarterly dividend of $0.28 per share. It announced that the launch of Xbox One on November 22 was the biggest launch in Xbox history, with more than 1 million consoles sold worldwide in less than 24 hours—surpassing day-one Xbox 360 sales and setting a new record for Microsoft.
According to a new report from International Data Corporation (IDC), worldwide PC shipments are expected to fall 10.1% in 2013, slightly below the previous projection of a 9.7% fall, and by far the severest yearly contraction on record. It said that interest in PCs has remained limited, leading to little indication of positive growth beyond replacing existing systems.
Article continues below advertisement
Appaloosa invests in the global public equity and fixed income markets with a focus on equities and debt of distressed companies, bonds, exchange warrants, options, futures, notes, and junk bonds. According to Bloomberg Businessweek, the firm's client base consists of high–net worth individuals, pension and profit sharing plans, corporations, foreign governments, foundations, universities, and other organizations. Investors commit to a locked period of three years during which their withdrawals are limited to 25% of their total investment.
Appaloosa founder David Tepper's investment specialty is distressed companies. While most hedge funds underperformed the U.S. stock market in 2012, Tepper's flagship hedge fund successfully bet on stocks and other securities at key moments in 2012, posting a net return of nearly 30%. In recent years, he's become known as a philanthropist. His largest gift of $67 million went to Carnegie Mellon University in 2013, whose Tepper School of Business is named after him. He earned his BA in Economics from the University of Pittsburgh in 1978 and his MBA (then known as an MSIA) from Carnegie Mellon in 1982.