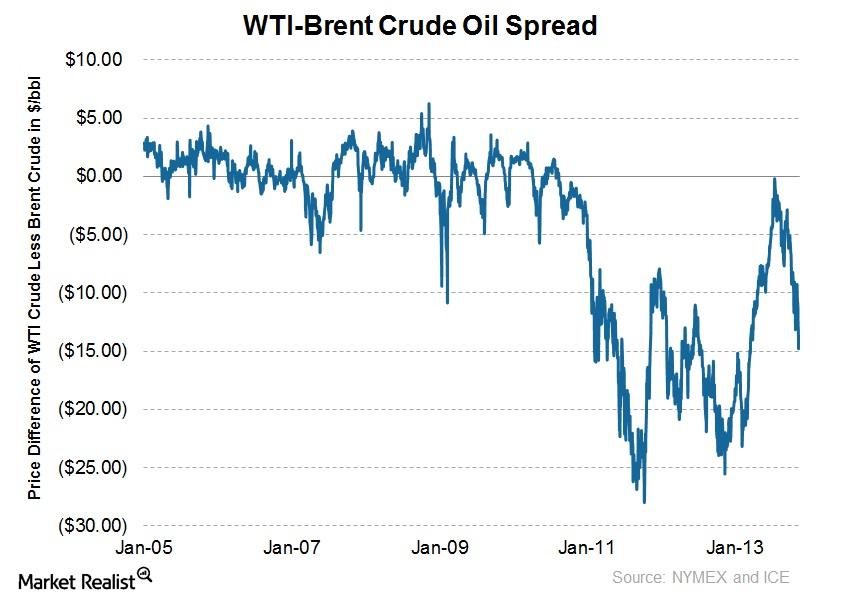 Must-know: WTI-Brent oil spread hits widest point since February
WTI and Brent used to trade in line, but prices had diverged over the past few years
The spread between West Texas Intermediate (WTI) and Brent crude represents the difference between two crude benchmarks, with WTI more representing the price that U.S. oil producers receive and Brent more representing the prices received internationally. The two crudes are of similar quality and theoretically should price very closely to each other. However, the prices had differed greatly between the two crudes because a recent surge in production in the United States has caused a buildup of crude oil inventories at Cushing, Oklahoma, where WTI is priced. This created a supply and demand imbalance at the hub, causing WTI to trade lower than Brent. Before this increase in U.S. oil production, the two crudes had historically traded in line with each other.
The above graph shows the WTI-Brent spread over the past few years. Note that when the spread moves wider, it generally means that crude producers based in the United States receive relatively less money for their oil production compared to their counterparts that are producing internationally.
Spread moved markedly wider last week, following the trend of the past few months
The WTI-Brent spread moved wider last week, from $10.52 per barrel to $14.01 per barrel. The move wider was attributed to renewed unrest in Libya, which has hampered production in the region, and has pushed the price of the international benchmark of Brent crude higher.
Article continues below advertisement
Meanwhile, the domestic benchmark of WTI has had downward pressure on price movements as U.S. oil production remains strong. In recent weeks, the spread has been moving wider again, as data from the U.S. Energy Information Administration has posted several reports showing that domestic crude inventory stocks have risen more than anticipated. Maintenance on refineries could have hampered crude demand from the Cushing hub, though note that maintenance is a temporary event.
For more background on the WTI-Brent spread, see Why the Why the WTI-Brent oil spread remains above $10 per barrel.
The spread's effect on oil companies
When WTI trades below Brent, this generally means companies with oil production concentrated in the United States will realize lower prices compared to their international counterparts, as WTI is the de facto U.S. benchmark and Brent is the international benchmark.
For example, see the table below for a comparison of oil prices realized by U.S.-concentrated companies versus companies with a global production profile.
| | |
| --- | --- |
| | 3Q13 Average Price Per Barrel |
| BENCHMARK OIL PRICES | |
| West Texas Intermediate | $109.65 |
| Brent | $102.44 |
| | |
| | 3Q13 Realized Oil Prices Per Barrel (excluding hedge gains/losses) |
| DOMESTIC PRODUCERS | |
| Chesapeake Energy (CHK) | $101.08 |
| Concho Resources (CXO) | $102.10 |
| Range Resources (RRC) | $91.82 |
| Oasis Petroleum (OAS) | $100.75 |
| | |
| INTERNATIONAL PRODUCERS | |
| Total Corp. (TOT) | $107.20 |
| ConocoPhillips (COP) | $106.60 |
From an investment point of view, if Brent is expected to continue to trade significantly above WTI, you might favor buying oil names that receive crude prices closer to the Brent benchmark than the WTI benchmark. Generally, this would represent oil names with more international production relative to domestic (U.S.) production.
Monitor the spread
Investors may want to monitor the spread, as a wider spread may make international producers more attractive relative to domestic producers. The difference between Brent and WTI has caused domestic producers such as those mentioned in the above table (CHK, CXO, RRC, and OAS) to realize lower prices on oil compared to international producers. But over the medium term, the spread has closed dramatically and now signals better takeaway capacity for inland U.S. oil. Investors should note that many international names are in the XLE ETF (SPDR Energy Select Sector), an ETF (exchange-traded fund) whose holdings are primarily large-cap energy stocks with significant international exposure. In comparison, the XOP ETF (SPDR Oil & Gas Exploration & Production ETF) is weighted towards domestic-only names.