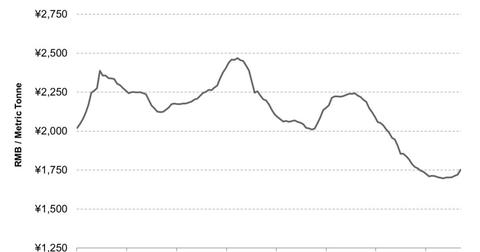 Urea prices in China rebounded to 1,751 renminbi but remain low
By Xun Yao Chen

Nov. 21 2019, Updated 9:25 p.m. ET
China's urea price
Since urea prices in China can affect global fertilizer prices, it makes sense to follow them. When urea prices in China rise, they tend to support global prices, which is positive for fertilizer producers like CF Industries Holdings Inc. (CF), Potash Corp. (POT), Terra Nitrogen Company LP (TNH), and Agrium Inc. (AGU). Conversely, low prices in China will negatively affect global urea prices—especially when the export taxes lower during the off-season (July to October).
Prices rising
According to the China National Chemical Information Center, the average selling price of urea stood at 1,751.48 renminbi per metric tonne on November 22, an increase of 47.04 renminbi since the beginning of the month.
Article continues below advertisement
Domestic farmers, higher coal prices, and lower output had supported urea prices until March this year. But since then, lower coal prices, increased capacity expansion, and weaker purchases sent fertilizer prices from 2,250 renminbi per metric tonne to as low as 1,698 renminbi per metric tonne in mid-October.
Factors driving the rise
But with higher coal prices and the return of Chinese farmers to prepare for next year's plantation, we mentioned in previous articles that we're likely to see urea prices in China move higher towards the second quarter of next year.
Rising food inflation in China, as well as higher economic activity, should support farmers' purchases and application of nitrogenous fertilizers. Over the past three years, urea prices in China have risen from late October to the first or second quarters of the following year. So we're likely to see urea prices firm up.
Positive trend
Higher urea prices in China would alleviate downward pressure on global fertilizer prices, which would support earnings and cash flows over the next few quarters. This bodes positively for nitrogenous fertilizer producers such as CF Industries Holdings Inc. (CF), Agrium Inc. (AGU), Potash Corp. (POT), and Terra Nitrogen Company LP (TNH) as well as the VanEck Vectors Agribusiness ETF (MOO).
However, on a more medium-to-long-term basis, these companies may not benefit as much. While year-over-year prices improved to -12.86% last week, from the low of -17.94% in October, they remain in negative territory. If prices remain negative over the next few months, revenue and net income for nitrogenous fertilizer businesses will likely remain weak.