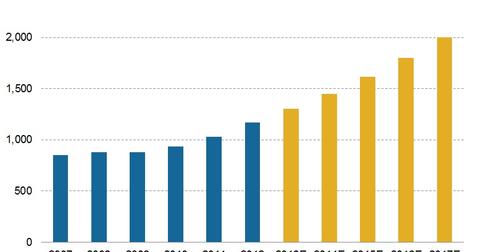 Upstream capex spending growth still helps names like Schlumberger
By Ingrid Pan

Updated
Upstream capex spending forecast to be up
From preliminary forecasts, it looks as if spending from upstream energy companies (those that produce oil and gas) will be up in 2014. Generally, most spending from upstream companies is used to drill and frack wells, thereby engaging the services of oilfield service companies. So higher upstream energy sector capex spending is a positive indicator for the oilfield services sector, as it translates into higher revenues.
Article continues below advertisement
Baker Hughes CEO Martin Craighead noted on the company's 3Q13 earnings call that for 2014 that 10% growth in upstream capex spending seemed reasonable. Also on the call, management and analysts discussed the fact that given the buoyant commodity price environment (particularly oil), many upstream companies were generating significant cash flow. This is a positive indicator for upstream capex spending.
Halliburton also commented that based on initial conversations with customers, it expected overall spending levels to increase and would be surprised if spending growth wasn't around the 10% level. Schlumberger commented that for 2014, it expected a continuation of 2013 trends—that is, "another year of steady activity growth."
Data points show that leading unconventional plays will see more drilling and bigger wells
Article continues below advertisement
Most upstream energy companies haven't put out 2014 capex budgets yet. However, various data points support higher spending. In the Bakken Shale, where Continental Resources (CLR) is one of the dominant players, the company announced that it expects to boost drilling spending next year by over 12% versus 2013 levels. In the Marcellus Shale, where Range Resources (RRC) is a bellwether name, a recent presentation showed that the company expected wells drilled in the Marcellus in 2014 and beyond to be significantly longer with more stages. This implies higher revenues for OFS names providing such services.
Concho Resources (CXO), a major operator in the Permian Basin, stated in a recent presentation that it expects that the area (including all companies, not just CXO) will experience 12% compound annual growth rate in the area through 2017. While part of the increased production may come from realized efficiencies from having more experience in the region, part is also likely to come from increased levels of drilling, again a positive for oilfield service companies.
Lastly, many of the emerging shale plays in the US are just starting to be developed, with a huge inventory of potential future wells waiting to be drilled. If commodity prices remain at levels where these wells would be profitable, that presents an incentive for producers to spend money to drill.