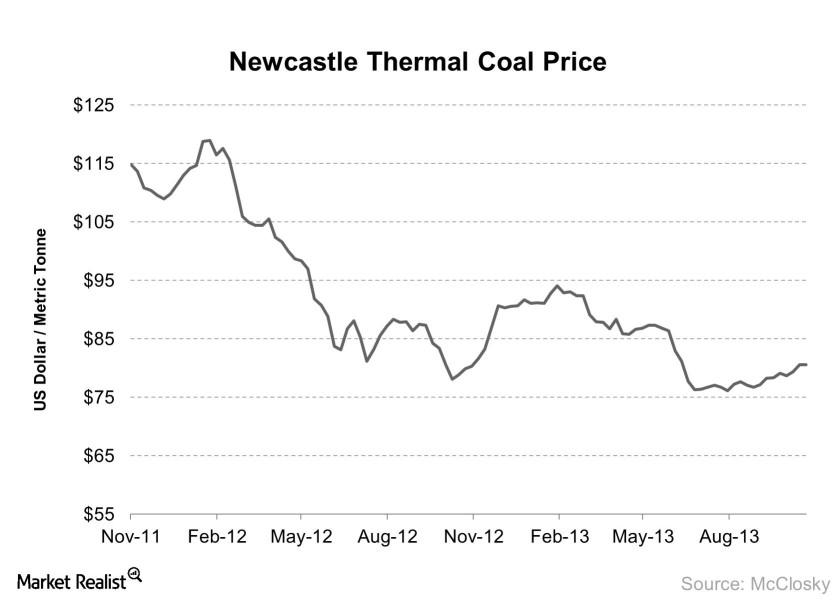 Thermal coal prices hit $80.60, positive for fertilizer stocks
Why coal prices affect fertilizer producers
While most of the world uses natural gas as an input, 80% of China's plants use coal to produce nitrogen-based fertilizers like urea and ammonia. As one of the costlier producers of the fertilizer used to support plant growth, fluctuations in coal prices can have a significant impact on global prices. The higher the coal price, the better it is for other fertilizer producers like CF Industries Holdings Inc. (CF), Agrium Inc. (AGU), Terra Nitrogen Company LP (TNH), and Potash Corp. (POT), which don't use coal.
Coal has performed poorly earlier this year
Article continues below advertisement
The coal industry has been one of the worst performers in the global equity market this year. Companies like Peabody and Alpha Natural Resource have performed poorly in the wakes of increased supply from Australia and Indonesia and weak electricity consumption growth during the first half of the year in China. Prices of thermal coal at Newcastle fell almost 20% since the start of the year.
Coal prices have risen since summer
But since summer, prices of thermal coal have been rising. Prices for Newcastle thermal coal, a benchmark used for coals bought and sold globally, last traded at $80.60 per metric tonne on November 1, 2013, up from $80.55 per metric tonne on October 25, 2013. Some of the key factors that drove prices higher include improving economic fundamentals in Europe and China, supply cuts in Australia, and higher use of thermal coal for electricity as a drought curtailed the use of hydro plants in China.
Article continues below advertisement
Analysts say Indonesia is also considering cutting supply in the current excess supply market. However, expected slower economic growth in China in 2014 and a shift towards cleaner fuels could limit price gains over the medium to long term. Falling fundamentals in India and a weaker rupee could also postpone coal purchases. Look no further than coal price if you want to know how coal demand and supply are shaping up.
Higher prices benefit fertilizer producers
So far, global economic growth is expected to pick up in 2014. This case would generally be positive for commodities like coal, as the industrial sector uses more electricity. While increased output has negatively impacted coal prices this year, coal producers' measures to cut output are encouraging. As long as these trends stay on course, coal prices should rise. Note, however, that we haven't seen significant price gains since summer started. So it may be best to assume coal prices won't jump to above $100 per metric tonne.
Higher coal prices will have a positive impact on urea prices in China and possibly on the global market, which would be revenue- and earnings-positive for manufacturers like CF Industries Holdings Inc. (CF), Terra Nitrogen Company LP (TNH), Agrium Inc. (AGU), and, to a lesser extent, Potash Corp. (POT)—holding everything else constant. This also applies to the VanEck Vectors Agribusiness ETF (MOO).