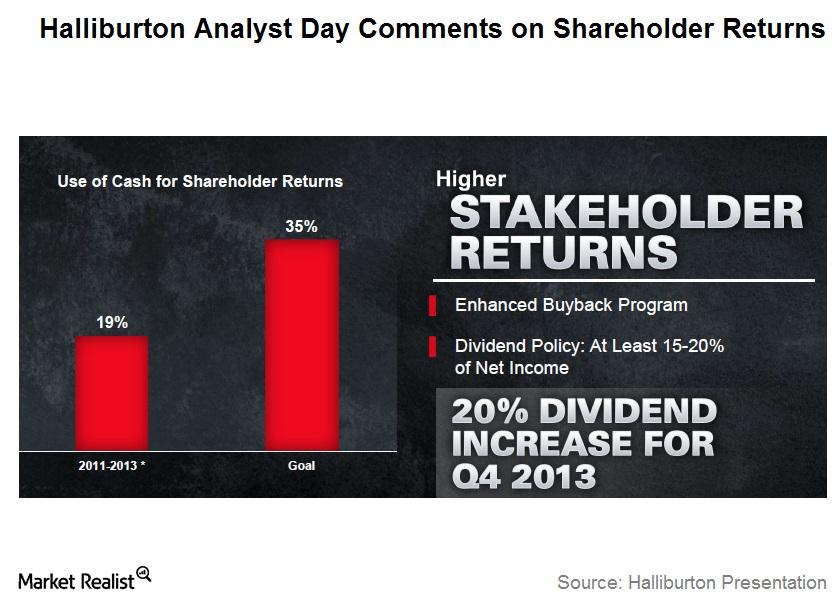 Strong cash flows mean continued share buybacks from HAL and SLB
By Ingrid Pan

Nov. 8 2013, Published 4:00 p.m. ET
Strong free cash flows
The major oilfield service companies have continued to generate strong free cash flows, allowing for share buybacks—a positive for holders of these stocks.
Schlumberger spent $833 million during 3Q13 to repurchase 10.1 million shares. Year-to-date, the company has paid out over $2.7 billion in either dividends or stock buybacks.
In 3Q13, Halliburton issued $3 billion in senior notes to fund a $3.3 billion stock buyback, representing ~7% of outstanding shares. Year-to-date, the company has repurchased ~10% of outstanding stock. HAL has an additional $1.7 billion remaining in board authorization for future share repurchases. Plus, since February 2006, HAL has purchased 188 million shares at a cost of ~$7.6 billion. Halliburton had also announced a 39% increase in its dividend earlier in 2013, and noted that its actions in returning cash to shareholders reflect its "continued confidence in the strength of [its] business outlook." The company stated a targeted dividend payout of ~15% to 20% of net income, in addition to additional share buybacks.
Plus, these large service companies are expected to continue to generate strong free cash flow, and return cash to shareholders either in the form of dividends or buybacks.
Article continues below advertisement
For example, Halliburton noted on its 3Q13 earnings call that in terms of capex, it didn't expect "a significant increase in capital overall." However, EBITDA for 2014 is expected to be significantly more than 2013, implying higher free cash flow—and potentially more cash returning to shareholders. Currently, the average Wall Street analyst's consensus for 2013 EBITDA is $6.2 billion, compared to roughly $7.6 billion for 2014.
Halliburton also just recently announced a 20% increase in its quarterly dividend from $0.125 per share to $0.15. Management commented, "Together with the 39% increase in dividends announced in the first quarter and our recent share repurchases, [the announcement] reflects our growing confidence in the strength of our business outlook, our commitment to shareholder distributions, and our focus on delivering best-in-class returns. They further noted, "We anticipate doing more systematic buybacks, and expect announcements like this one today to occur more frequently."