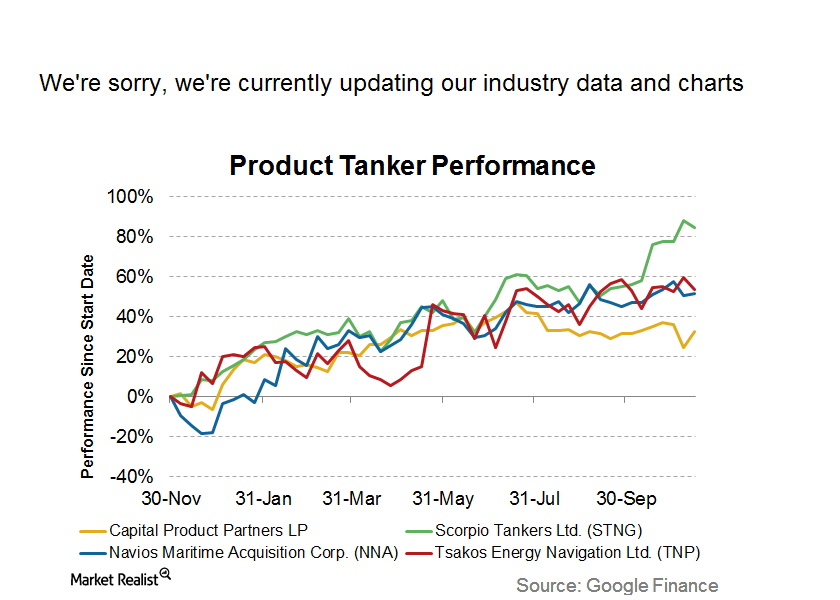 Rising orders for refined oil shipping spell higher rates ahead
By Xun Yao Chen

Nov. 20 2013, Published 8:00 a.m. ET
Orderbook rises
On November 8, the overall orderbook for product tankers stood at 12.43% of existing capacity measured in dwt (deadweight tonnage). This was an increase from 12.18% the previous week. Breaking the aggregate index down into smaller parts, MR (medium-range) vessels continue to show strength, rising from 6.52% at the start of November to 6.64% last Friday.
LR 2 (long-range 2 Aframax-size) vessels continued to see weakness, holding constant at 3.47%, while LR 1 (long-range 1 Panamax-size) vessels, which are smaller than Aframax-size and are employed for shorter trips, advanced from 19.59% to 20.05%.
Importance
Article continues below advertisement
The tanker orderbook represents managers' assessment of the industry's future fundamental outlook. It reflects the number or capacity of ships that have been ordered, as well as the number of ships under construction. When ship orderbook increases, it signals that future supply and demand dynamics are favorable and that companies can generate good returns. On the other hand, when ship orderbook falls, it reflects a negative picture for the tanker industry.
Percentage of capacity
Analysts often use a percentage to reflect changes in the number of operating ships over time. An orderbook based on the number of ships has little meaning without context. If 12 ships were on orderbook, the interpretation could differ when existing capacity consists of 30 versus 1,000 ships. An orderbook also helps investors understand how much of existing capacity is currently in backlog and, if all of it were constructed, what percent of growth investors could expect.
Orderbook
Article continues below advertisement
Orders for MR and LR1 vessels have been on the rise this year, likely due to expectation and ongoing growth in U.S. refined oil export to countries in Latin America and Europe. New refining capacity additions in the Middle East and India are expected to come online from 2013 to 2018, which will take on longer routes, benefiting LR2 vessels.
However, some Aframax owners that operate in the crude tanker business were last reported to have been converting their vessels into product tankers. This negatively affects prospects for the vessel class this year. Scorpio Tankers Ltd. (STNG) recently said in its third quarter earnings call that LR2 was underperforming in the third quarter but is positioned nicely for the next few quarters.
Outlook
If the orderbook continues to rise overall, it suggests higher rates ahead. This will surely benefit product tanker stocks like Navios Maritime Acquisition Corp. (NNA), Scorpio Tankers Ltd. (STNG), Tsakos Energy Navigation Ltd. (TNP), and Capital Product Partners LP (CPLP). The Guggenheim Shipping ETF (SEA) should also benefit from higher overall product tanker rates.