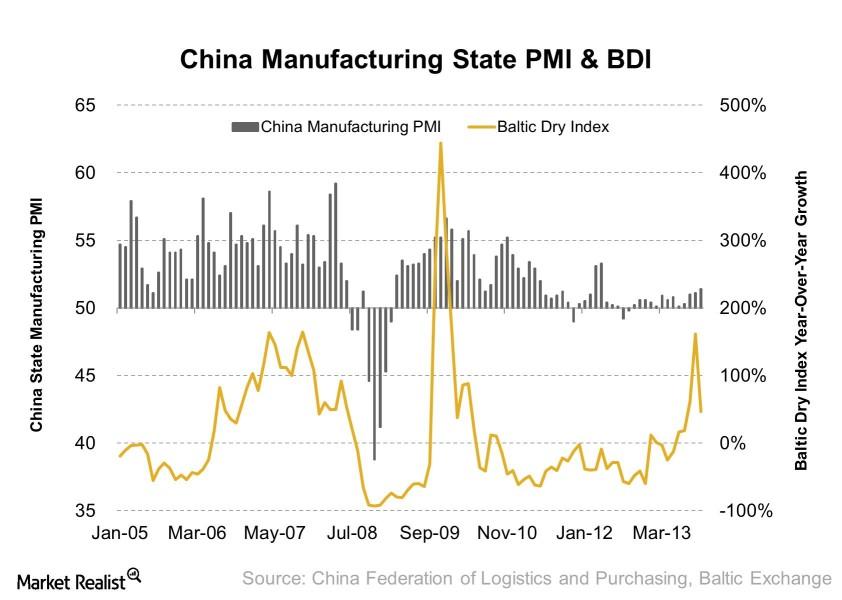 Why it pays to be patient about China's manufacturing activity
China's manufacturing activity and shipping demand
Because China is the largest importer of raw material in the world, China's manufacturing is a key driver that affects shipping demand and rates. When manufacturing activity rises, China will often import more dry bulk raw materials, such as iron ore, coal, and grain. This will support shipping rates, which positively affects dry bulk shipping companies' revenues, earnings, and share prices. But when activity falls, the opposite can happen.
Purchasing manufacturers' index
Article continues below advertisement
China's manufacturing PMI (purchasing manufacturers' index) is an indicator widely followed by money managers, policymakers, economists, traders, and analysts. Because of its timeliness—reported at the beginning of every month for the previous month—it 's highly regarded as a leading indicator for the future demand of dry bulks.
China's PMI rose to its highest level since April 2014. The PMI, which stood at 51.1 in September, slightly rose to 51.4 on October. Figures above 50 indicate solid expansion, while those between 42 and 50 show possible growth, and levels under 42 signal a potential recession.
Lacking demand momentum
While October's data was positive, investors should note that last month's manufacturers' sentiment wasn't particularly great. The largest increase in the headline figure—which is comprised of indexes for new orders, production, raw-material inventory, employment, and suppliers' delivery time—shows only production strength, rising from 52.9 in September to 54.4 in October. While new orders were still above 50, they fell from 50.7 in September to 50.4 in October. So you could say domestic and external demand still lacks momentum.
A period of transition
Article continues below advertisement
After falling for much of 2011 and 2012, manufacturing sentiment in China turned up in 2012, as inflation and growth slowed, prompting the central bank to ease monetary policy and provide some juice to the economy. PMI, however, remains weaker compared to historical standards because the new government isn't eager to provide large stimulus like previous governments did as it tries to rein in shadow banking (think of making loans in the black market with high interest rates) to steer the economy away from public infrastructures to private consumption, and to craft and enact reforms.
While we all like to be able to drift a race car around a bend without slowing down, and perhaps at higher speeds, it's a dangerous move. Likewise, when an economy is going through a period of transition, you'll first see a relatively calmer period, followed by years of accelerated growth. China is going through that calmer period right now.
Weak growth is not bad
This isn't all negative, of course. Demand for dry bulks has risen at a decent pace over the past few months. While it's unlikely we'll see China's manufacturing PMI hit above 52 in the short term, if it does, you can expect much higher shipping rates. Higher shipping rates would benefit dry bulk shipping companies like DryShips Inc. (DRYS), Diana Shipping Inc. (DSX), Safe Bulkers Inc. (SB), Navios Maritime Partners LP (NMM), and Navios Maritime Holdings Inc. (NM). It pays to be patient if you expect the Chinese government to do good work.