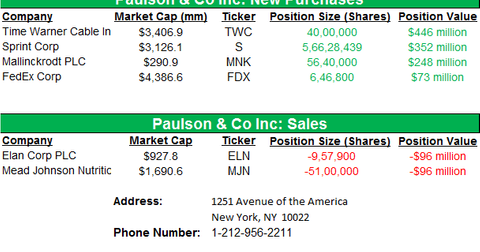 Paulson & Co. starts new positions in TWC, S, MNK, FDX, Sells MJN, ELN – 13F Flash (A)
By Samantha Nielson

Updated
Paulson & Co., founded in 1994 by John Paulson, is an investment management firm specializing in event-driven arbitrage strategies (including merger arbitrage, bankruptcy reorganizations, and distressed credit), structured credit, recapitalization, restructuring, and other corporate events. The firm operates as a partnership consisting of John Paulson and the other partners of the firm.
Paulson & Co. manages approximately $18 billion and employs approximately 120 employees in offices located in New York, London, and Hong Kong.
The firm started new positions in Time Warner Cable (TWC), Sprint Corp (S), Mallinckrodt Plc. (MNK), and FedEx Corp. (FDX) and sold positions in Mead Johnson Nutrition Co. (MJN) and Élan Corp Plc. (ELN).
Abbreviated financial summaries and metrics for these securities are included below. Detailed analysis and recommendations require a subscription (more information at the bottom of the article).
Why buy Time Warner Cable (TWC)?
Article continues below advertisement
Time Warner Cable (TWC) said revenue for its third quarter of 2013 increased 2.9% from the third quarter of 2012 to $5.5 billion. It said that although business services revenue grew, residential services revenue growth was only in high-speed data. Residential video revenue decreased, driven by declines in video subscribers and premium network revenue. This was reduced by approximately $15 million of subscriber credits issued in connection with a temporary blackout of Showtime that resulted from a dispute with CBS over broadcasting retransmission fees. This was partially offset by price increases and a greater percentage of subscribers purchasing higher-priced tiers of service. Residential voice revenue decreased due to a decline in average revenue per subscriber and fewer voice subscribers. The company said it aims to double business services revenue over the next four to five years, and the newly acquired DukeNet and any other business services acquisitions will generate additional revenue.
For 4Q 2013, TWC expects that the financial impact from fewer 3Q subscribers, plus the customer credits issued in 3Q, will result in a full-year reported revenue growth rate of 3% to 3.5%, which is lower than previously anticipated. The company declined to comment on whether it has received an approach from Charter Communications, whose biggest shareholder is Liberty Media. Analysts have speculated that TWC's lackluster results makes it a suitable candidate for a merger.
According to its website, Paulson & Co. relies on bottom-up fundamental research within corporate events and sectors where it has expertise, and it encourages teamwork by incentivizing collaboration and idea sharing. The flexibility of having long and short event exposure across the capital structure lets it optimize performance across market cycles. In addition to its hedge funds, Paulson & Co. manages real estate private equity funds that focus on various distressed real estate recovery opportunities. Its goals are capital preservation, above-average returns over the long term, and low correlation to the markets.