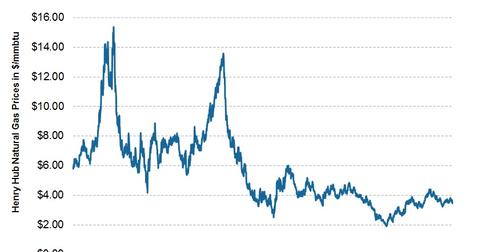 Natural gas rigs dropped to post-July low and will keep dropping
By Ingrid Pan

Updated
Natural gas rigs dropped to the lowest levels since July
Baker Hughes, an oilfield services company, reported that rigs targeting natural gas decreased slightly last week, to 376 from 360 for the week ending November 1. Natural gas rigs drilling are near the lowest points of 2013.
Natural gas rigs will likely decline in 4Q13
Altogether, though, with natural gas currently trading around ~$3.50 per MMBtu, there isn't much of a catalyst for natural gas activity to pick up significantly from current levels. Plus, on Baker Hughes' (BHI) 3Q13 earnings call, management noted that it expects natural gas rigs in 4Q13 to average 340, about 10% lower than current levels, with the drop in rigs due both to normal seasonality in winter months and increased efficiency allowing upstream names to produce more with fewer rigs.
Background: Natural gas rigs have fallen sharply over the past few years, also due to low prices
From a longer-term perspective, natural gas rigs have been largely falling or flat since October 2011 in response to sustained low natural gas prices (see the natural gas price graph below).
Natural gas rigs drilling can indicate the sentiment of major natural gas producers such as Chesapeake Energy (CHK), Comstock Resources (CRK), Southwestern Energy (SWN), and Range Resources (RRC).
Natural gas rigs decreased last week, with no real catalyst for more gas drilling in the near term
Article continues below advertisement
Given current gas prices, there doesn't seem to be a strong incentive to increase natural gas drilling activity. However, note also that natural gas rigs had remained roughly flat for most of May and June, despite some price volatility. This may also signal a bottom, or reflect the bare minimum of capex that upstream companies are willing to spend on drilling gas at the moment.