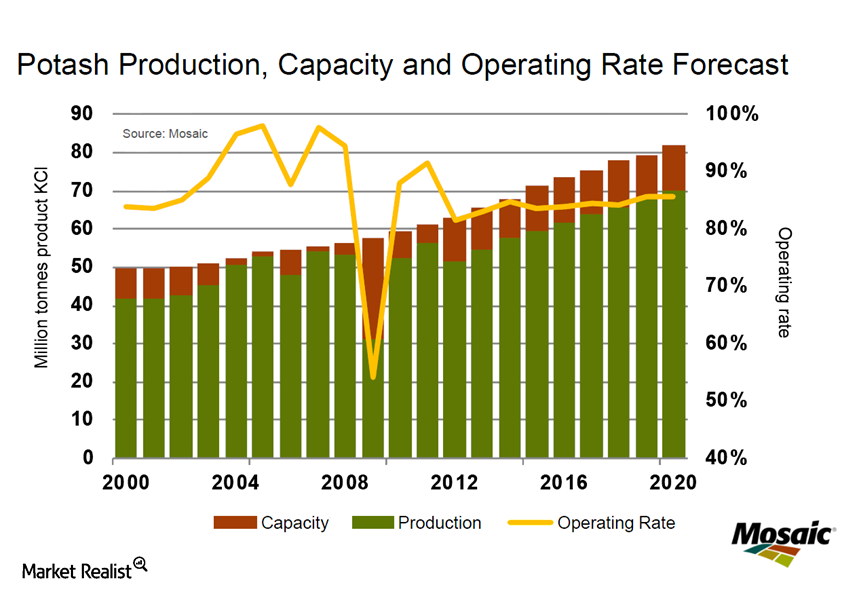 Must-know: Mosaic's forecast shows a possible upside limit in 2015
Operating rate dip ahead in 2015
Despite a recovery in 2014, investors should be warned about the longer-term outlook for the potash business. The operating rate is often a factor that affects competition among existing producers, which in turn affects fertilizer prices, earnings, and share prices. This is expected to take a dip in 2015.
New capacity is coming online
Operating rate is expected to dip in 2015 because ongoing expansion projects at potash producers like Potash Corp. (POT) and Uralkali are expected to be completed by then. As a result, you see quite a significant jump in capacity from 2014 to 2015 on the chart above. An increase in capacity can have a negative impact on competition level and pressure prices.
Cyclical business
Article continues below advertisement
Note, however, that the forecast provided by Mosaic only includes current capacity expansion plans and a constant demand growth of 3.0% up to 2020. As Mosaic's management indicated in its earnings call, agriculture is a cyclical business. The cycle isn't only driven by economic activity, but also by weather patterns and many other factors.
Take pre-2012 for example. Operating rates have fluctuated wildly from near 55% to 97%. Such large changes have followed large swings in prices and demand. This makes forecasting something more than two years into the future very complicated.
The dip may not be that severe
Most industry associations and companies forecast a smooth increase in demand, but this usually isn't the case. So the dip in operating rate in 2015 may not be as severe as predicted. As management pointed out, "It's going to be lumpy, and we've proven that, that you just don't know when it's going to come, but we will see over this decade a 3% annual growth rate." Still, this does mean that the upside could be quite limited in 2015.
The industry is at a trough
From a long-term perspective, though, operating rates are currently projected to stay near the lower end since 2000. Since potash supply is largely held by a handful of companies, particularly for the export market, investors could see limited additional capacity addition plans going forward. If prices do fall further, these companies will likely delay some projects. This means the industry is likely at a cyclical trough, which should be positive from an investment perspective.