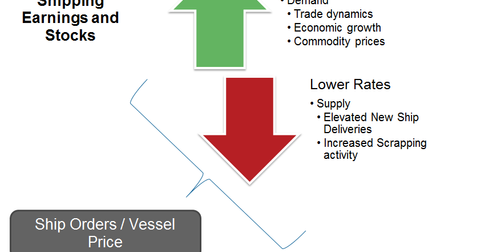 Must-know: Key drivers that affect shipping industry stocks
By Xun Yao Chen

Nov. 7 2013, Published 2:29 p.m. ET
What is this weekly series for? 
At MarketRealist.com, we break down key indicators that drive or highly correlate with whether earnings and share prices rise or fall. Understanding how these indicators affect fundamentals or what they might suggest should help investors get a clearer picture of the industry and make sound decisions.
Shipping rates
Shipping rates are perhaps the most important indicator that affects the long-term performance of shipping stocks. When shipping rates for transporting crude oil are on the rise over the medium to long term, dry bulk shipping companies and ETFs like Tsakos Energy Navigation Ltd. (TNP), Teekay Tankers Ltd. (TNK), Nordic American Tanker Ltd. (NAT), Frontline Ltd. (FRO), and the Guggenheim Shipping ETF (SEA) tend to benefit.
Supply and demand
Article continues below advertisement
Shipping rates are driven by supply and demand: tighter supply results in higher rates, while looser supply and demand balance leads to lower rates. Because shipping companies can't pull ships out of service, shipping rates can change drastically even with a small percent change in fleet utilization (the number of ships being employed). This can make investing in this industry volatile.
Demand drivers
Demand for ships is affected by trade volume and trade distance. As the global trade highly correlates with global economic growth and overall demand of commodities, the world's (China's in particular) economic growth plays an important role. Over the past two years, China has been a key driver for incremental oil imports, while an energy boom in United States has negatively affected demand for crude tankers.
Article continues below advertisement
Often, movements in commodity prices and customers' profitability can show investors whether economic activity and demand for tankers are rising or falling. Plus, shifts in policies and mining economics like hydraulic fracking and horizontal drilling, which extract oil from areas once considered impossible, can affect global trade positively or negatively.
Supply drivers
New ship deliveries and scrapping activity are the two most influential activities that affect supply. These two factors were widely followed by analysts and shipping managers over the past few years as orders went into a bubble, causing elevated supply growth and rates to collapse. But expected shipping rates do influence managers' decisions about whether to purchase or build new ships, often a great source of information for investors. New ship additions can also increase companies' earnings.
Vessel values
Finally, the prices (values) of ships are another key indicator that drives stock prices, because one way to measure the value of a company is by its assets. Ship prices are often affected by shipping rates and ship orders, so we can look at rising or falling ship prices as leading indicators that show where future shipping rates will be.
While these indicators are often published separately, we generally compile them into a series so that investors can get a fuller picture of how everything is performing as a whole, since we don't recommend investors rely on any one indicator alone. Plus, investing in shipping isn't for everyone because of its volatility. But you can also take advantage of volatility if you know what the odds are for the industry to see better or worse days ahead.