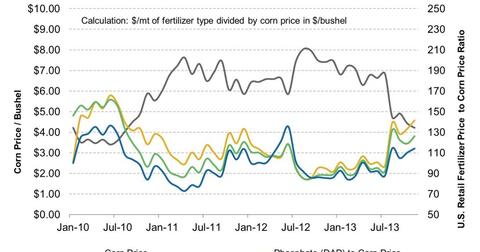 Must-know: Why fertilizers are now more expensive than in 2011
By Xun Yao Chen

Updated
The fertilizer-to-corn price ratio
In addition to fertilizer prices, fertilizer demand is an important driver that affects fertilizer producers' earnings. The relative price of fertilizers to crop price is an important factor that influences farmers' buying decisions because it affects their profits. When fertilizer prices are relatively high compared to crop prices, there's less incentive for farmers to purchase more fertilizers. On the other hand, when fertilizer prices are cheap, farmers may be encouraged to purchase more fertilizers, which would be positive for fertilizer producers.
Fertilizers are now more expensive than 2011
Article continues below advertisement
Over the past few months, fertilizers have become substantially more expensive for farmers. While the price ratio of fertilizers to corn stood at just 75x, based on dollar-per-metric-tonne-of-fertilizer over dollar-per-bushel-of-corn, that rose to ~125x at the end of August. While retail prices fall, they didn't fall as much corn price—making fertilizers more expensive. The price ratios of corn to retail urea, phosphate, and potash prices in North America were 114, 141, and 126, respectively, on November 7—slightly higher than the 116, 139, and 125 seen at the end of October 30. These fertilizers are now more expensive than they were at the end of 2011.
Implication for wholesale manufacturers
Retail prices aren't what most fertilizer manufacturers like CF Industries Holdings Inc. (CF), Agrium Inc. (AGU), Mosaic Co. (MOS), and Potash Corp. (POT) sell at. These producers sell most (or all) of their fertilizers at wholesale prices. But because high retail prices can deter farmers from purchasing fertilizers and consequently retailers as well, they can have a negative impact on wholesalers' sales volume. While retailers could cut fertilizer prices, retailers tend to price their products based on wholesale prices. So both wholesalers and retailers will be negatively affected.
Fertilizer purchases are negatively impacted
As long as fertilizers remain more expensive, fertilizer manufacturers' and Agrium's sales volume could be negatively impacted. A further increase in the ratio would be even more negative—unless higher demand is driving retail prices higher.
On the other hand, you may also consider the possibility that corn prices are now very low and will soon stabilize as farmers in the Southern Hemisphere shift plantation away from corn to soybean and low corn prices attract new demand. This would be positive for the stocks and ETFs mentioned, but it's unlikely to be much of a benefit in the short to medium term.