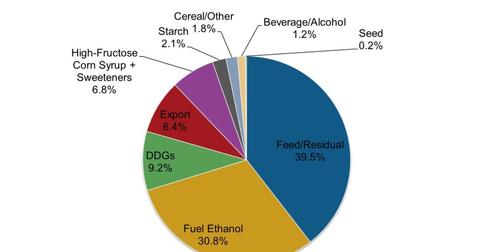 Must-know controversies surrounding the ethanol mandate cut
By Xun Yao Chen

Updated
Corn use for ethanol
Increased ethanol use has been a big driver since the law to blend ethanol with gasoline was enacted in 2005. Ethanol now makes up about 30.8% of corn consumption yearly. It's one of several reasons why companies like CF Industries Holdings inc. (CF), Potash Corp. (POT), Agrium Inc. (AGU), and Mosaic Co. (MOS) have performed well. While the VanEck Vectors Agribusiness ETF (MOO) didn't exist back then, it would have done well too.
Farmers and biofuel producers aren't happy
Of course, farmers aren't happy about this. A cut in the ethanol mandate would lower corn demand, corn prices, and their profits.
As one corn grower from Minnesota said, "It's a huge threat… They smell blood in the water." Minnesota backers in Congress agree. "At a time when the oil industry continues to receive billions of dollars in unnecessary subsidies, this decision is wrong," said Senator Amy Klobuchar.
Anne Steckel, the National Biodiesel Board's vice president of federal affairs, said the proposal was disappointing. "This proposal, if it becomes final, would create a shrinking market, eliminate thousands of jobs and likely cause biodiesel plants to close across the country," she claimed.
Oil companies and livestock producers welcome the change
Article continues below advertisement
Oil companies and food producers were happy about the proposal. Jack Gerard, CEO of the American Petroleum Institute, said, "For the first time, EPA has acknowledged that the blend wall is a dangerous reality and that breaching it would have serious impacts on America's fuel supply and would be harmful for American consumers."
Livestock producers welcomed the proposal, because a lower ethanol mandate would keep corn prices low and alleviate pressure on input costs—especially when the average U.S. consumer's wallet is tight.
So how would this affect crop prices and fertilizer demand? Find out in the next part of this series.