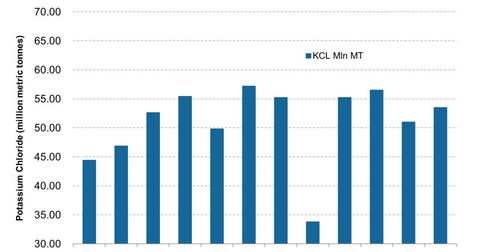 Why Mosaic sees a fertilizer industry recovery by the end of 2014
By Xun Yao Chen

Nov. 21 2019, Updated 9:28 p.m. ET
Recovery expected
Mosaic currently expects a recovery in potash demand from India and China by the end of 2014. As Uralkali recently mentioned in its earnings presentation, the share of India and China's potash consumption has fallen, but price contracts with these buyers still set the price for everyone else. So a recovery should be deemed positive for prices too.
Falling shipments
Overall shipments into China and India over the past two years have fallen by about 2 million tonnes each. So with 4 million tonnes removed from global demand, annual demand for potash is 7% to 8% lower than it could be if these two countries didn't cut purchases. Mosaic's management doesn't think this is sustainable, and Potash Corp. (POT) expressed a similar view.
Application is solid
Article continues below advertisement
Interestingly, farm applications in India and China aren't down as much as shipments are, according to Mosaic's reports and its study of the market. As management noted, "We think the Indian farmers are applying good rates of both potash and phosphate and we're seeing pipeline stocks draw down. So with the recovery an eventual—and I think within 12 months—we'll see a recovery in China and India."
Despite DAP imports down to near 4 million tonnes this year, farm applications have been solid. So India will likely need about 6 million to 6.5 million tonnes DAP next year. Consistent growth in phosphate demand is a reason behind Mosaic's conviction in investing in the Saudi phosphate joint venture (which is closer to India and reduces transportation costs) and in its recent announcement to buy CF Industries' phosphate business.
Prices should benefit
A recovery in demand will benefit prices as well—another positive for the future earnings of Mosaic, Potash, Intrepid (IPI), and Agrium. "We'll start seeing more pricing," said management. "The good thing about markets restocking [is] that we're seeing it in India. We're seeing [it] in China. We're seeing it in Brazil." These are three big markets for nutrient use in the world. So imagine if all these countries come back to restock some of their inventories—the impact on prices could be huge.