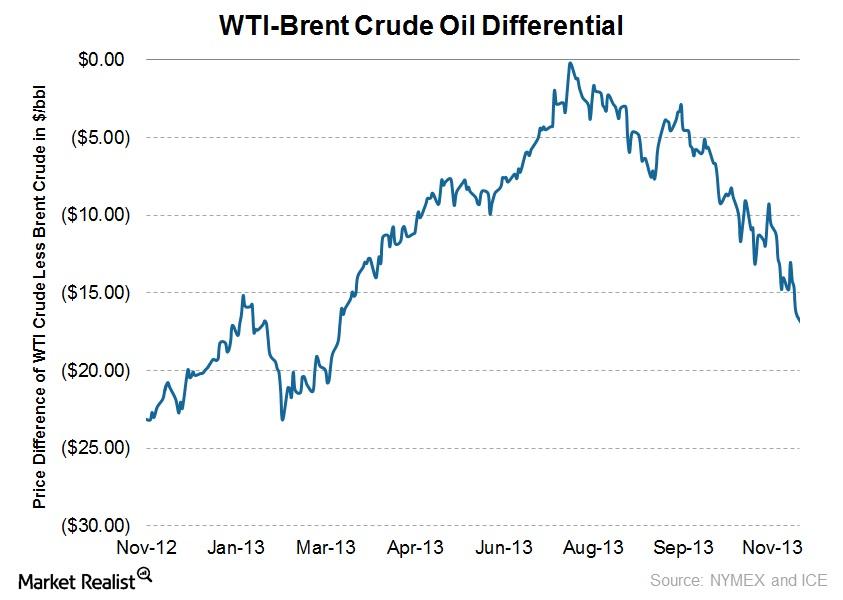 Why lifting sanctions against Iran can affect the WTI-Brent spread
By Ingrid Pan

Nov. 21 2019, Updated 9:26 p.m. ET
Iran sanctions and the WTI-Brent crude oil spread
Events surrounding the negotiations in Iran not only affect oil prices as a whole, but can also affect the spread between WTI crude and Brent crude. The markets generally view WTI as the U.S. benchmark crude, and it more reflects the price domestic producers receive for their oil output. Meanwhile, the markets generally view Brent crude as the international benchmark crude, and it more reflects the price producers abroad receive. For more on this difference, see our recent article on the WTI-Brent spread.
Article continues below advertisement
When there are geopolitical events that could hurt oil supply abroad, the effect is rising Brent prices relative to WTI prices. Conversely, if an event increases supply (such as Iran beginning to export more oil after embargo measures lift), Brent prices could fall relative to WTI prices, and the premium that Brent currently commands could shrink. Note that lately, WTI prices have been prevented from rising too much as the U.S. continues to pump out more and more oil. Flush domestic supply has been a major reason for WTI crude trading at a larger and larger discount to Brent over the past few months. When the discount that WTI trades at relative to Brent increases, U.S. producers generally receive less for their crude production than counterparts with international exposure.
For related analysis, see how oil prices were affected by Libyan supply disruptions.