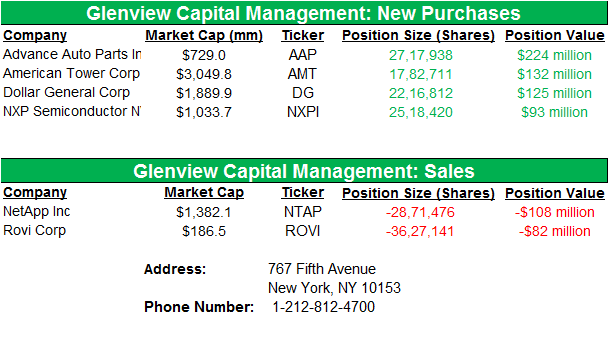 Glenview Capital Management starts new positions in AAP, AMT, DG, NXPI, sells NTAP, ROVI—13F Flash A
By Samantha Nielson

Nov. 20 2020, Updated 10:45 a.m. ET
Glenview Capital Management is a private investment management firm with more than $7 billion of assets under management. The firm was founded in 2000 by Lawrence "Larry" Michael Robbins. It manages capital for qualified investors through a series of private investment funds. Glenview has offices in New York and London. The $7 billion is split between Glenview Funds, a short fund, and Little Arbor Funds, a multi-strategy fund. Robbins generates his returns making concentrated bets on large-cap stocks. Glenview focuses on delivering attractive absolute returns through deep fundamental research and individual security selection.
The firm started new positions in Advance Auto Parts Inc. (AAP), American Tower Corp. (AMT), Dollar General Corp. (DG), and NXP Semiconductors (NXPI) and it sold positions in NetApp (NTAP) and Rovi Corporation (ROVI).
Abbreviated financial summaries and metrics for these securities are included below. Detailed analysis and recommendations require a subscription (more information at the bottom of the article).
Why buy Advance Auto Parts Inc. (AAP)?
Article continues below advertisement
Advance Auto Parts saw its stock price increase in mid-October after it announced the acquisition of General Parts International, Inc. (GPII), a privately held distributor and supplier of original equipment and aftermarket replacement products for commercial markets operating under the CARQUEST and WORLDPAC brands. The all-cash transaction has an enterprise value of $2.04 billion. Advance Auto Parts CEO Darren Jackson said that the addition of 1,246 company-operated stores and 1,418 independently owned CARQUEST locations provides AAP with an immediate platform and scale across North America, full market coverage, and the opportunity to position itself as market leader in the commercial business. Advance estimates anticipate that the transaction will result in approximately $160 million of annual run-rate synergies to be fully realized within three years after closing, and it's also expected to generate considerable free cash flow.
The company said its total sales for 3Q 2013 increased 4.3% to $1.52 billion, while earnings per diluted share (EPS) were $1.42. This was a 17.4% increase versus the third quarter of last year. It also reported a 2% comparable store sales decline driven by its DIY business and partially offset by a modest increase in its commercial sales. It saw a sequential decline in its business from 2Q 2013 that it attributed to the slowdown in the overall market growth due to limited consumer spending. Also, its competitors are intensifying efforts to drive growth, resulting in more stores proliferating in AAP's footprint.
Article continues below advertisement
Going forward, driving top line growth and bottom line profit will remain the company's focus as it begins integrating General Parts. It will remain cautious in the short term as its customers continue to adjust to a difficult macroeconomic environment. It expects that longer-term industry dynamics will remain favorable as a result of the continued increase in average vehicle age and deferred maintenance remaining at record levels. The company's peers include O'Reilly Automotive (ORLY) and AutoZone (AZO).
Glenview Capital Management founder Lawrence "Larry" Michael Robbins graduated from the University of Pennsylvania and has a degree from the Wharton School of Engineering and the Moore School of Engineering. He has been known for his love for the healthcare sector. In a press release, Glenview stated that its investment in hospitals, which totals approximately $2.0 billion across five major U.S. hospital chains, reflects its affinity for the long-term growth and stability of the business, its recognition of the growth opportunities available through implementing expanded insurance coverage, its belief in the structural competitive advantages of for-profit hospital chains, and its excitement about the opportunities to reinvest in the industry's strong cash flows and growing debt capacity as profitability builds through time. Robbins is known to take a more activist approach to some of his large bets, and he publicly voices his concerns about what management is doing and demands change.