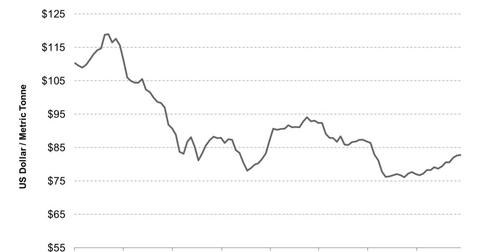 Glencore Xstrata's coal comment will benefit CF, POT, AGU, and TNH
By Xun Yao Chen

Updated
Coal prices
Coal is one of the main inputs used in China to make nitrogenous fertilizer. As it costs more to make nitrogenous fertilizers from coal, fluctuations in coal prices can have a significant impact on global prices. The higher the coal price, though, the better it is for other fertilizer producers like CF Industries Holdings Inc. (CF), Agrium Inc. (AGU), Terra Nitrogen Company LP (TNH), and Potash Corp. (POT) that don't use coal but benefit from the natural gas boom in the U.S.
Coal performed poorly earlier this year
The coal industry has been one of the worst performers in the global equity market this year in the wakes of increased supply from Australia and Indonesia and weak electricity consumption growth during the first half of the year in China.
Prices for thermal coal at Newcastle fell almost 20% since the start of the year, negatively affecting global fertilizer prices, CF, POT, AGU, TNH, and the VanEck Vectors Agribusiness ETF (MOO).
Coal prices have risen since summer
However, thermal coal prices have been rising since summer. Prices for Newcastle thermal coal, a benchmark used for coals bought and sold globally, last traded at $82.60 per metric tonne on November 22, 2013, up from $80.60 since the start of the month.
Some of the key factors that drove prices higher include improving economic fundamentals in Europe and China, supply cuts, and higher use of thermal coal for electricity as a drought curtailed the use of hydro plants in China.
Positive comments
Article continues below advertisement
As Glencore Xstrata—one of the globally diversified natural resource companies—said in its recent analyst presentation, prices will have to rise, as an oversupply of the commodity led many exporters to sell at a loss. "Current price levels are unsustainable in the medium term with close to 30 percent of seaborne thermal production being cash cost negative."
The company added that the relative cheapness of coal and new generating capacity in Asia are two factors that will support coal use and drive prices higher in the medium term. Although China is shifting away from coal-fired electricity plants to gas for environmental reasons, emerging Asian markets are "expected to grab some of that flow."
If coal prices continue to rise, this is one positive driver of fertilizer shares.