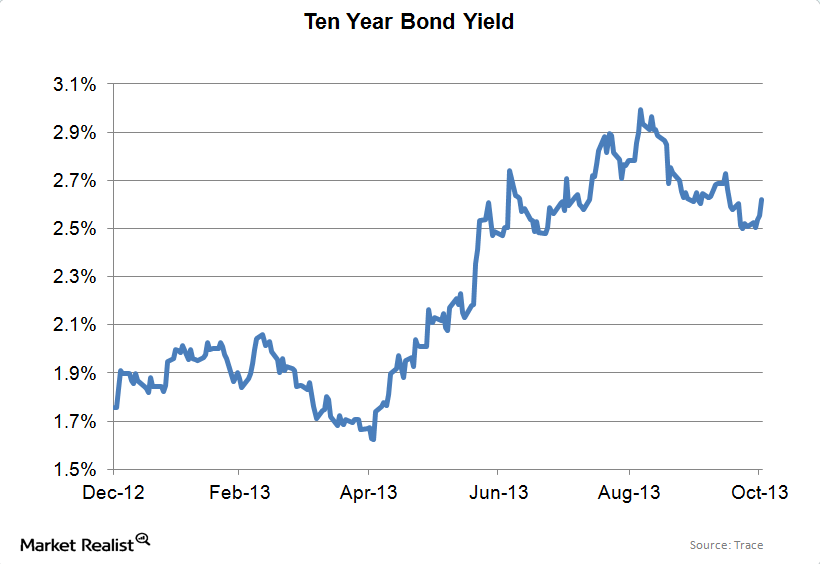 The Fed maintains its QE policy but warns not to expect QE4EVA
By Brent Nyitray, CFA, MBA

Nov. 4 2013, Updated 11:01 a.m. ET
Unsurprisingly, the Fed makes no changes at the October meeting
Given that the Fed chose not to taper at the September meeting and the subsequent shutdown, no one was really surprised that the Fed chose to maintain its current level of asset purchases. That said, as you can see on the chart, bonds sold off, as the statement was not as dovish as the market was expecting. Most participants had written off a chance of a December taper already, so in many ways, this was a case of "buy the rumor, sell the fact."
There's going to be a new sheriff in town
Article continues below advertisement
Ben Bernanke's term ends in January, and Janet Yellen will almost certainly succeed him. She has yet to be confirmed by the Senate, but it appears she's a relatively uncontroversial candidate. Yellen is supposedly more dovish than Bernanke, but she's known to be more model-driven. The Fed has been making it up as it goes along lately, as it has gone from fighting one fire to fighting another. Yellen is a believer in following the models, and would probably have tightened quicker, as the real estate bubble was inflating, and she may in fact remain accommodative longer than Bernanke would.
How does the Fed see the landscape?
The U.S. economic data has been unspectacular this summer. Nothing great, nothing terrible. In fact, it's slightly better than it was during the spring. For all the hand-wringing about the sequester, about the only people who noticed aside from some government workers were the luxury car dealers at Tyson's Corner. Actually, it was probably the housing sector that got the Fed's attention at the September meeting. In almost every economic recovery, housing is the first sector to strengthen, and it's the engine that pulls the economy out of the ditch. This time around, that didn't happen, as the real estate sector was still recovering from the bubble years. As rates have risen, housing starts have fallen off and we're seeing a drop in traffic—at least at the lower price points. Builders like PulteGroup (PHM) and Beazer Homes (BZH) noted this phenomenon. At the higher end—think Toll Brothers (TOL), NVR (NVR), and Meritage (MTH)—there has been less of an effect. Housing affordability has been hit by three big factors—an increase in interest rates, an increase in house prices, and an increase in insurance premiums. The Fed was probably worried enough about the housing sector that it decided to keep the status quo.