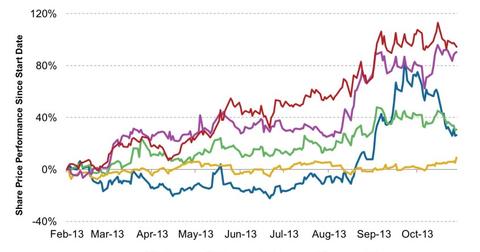 Dry bulk shippers aren't celebrating, but their silence is golden
By Xun Yao Chen

Updated
Mixed performance for dry bulk shippers
In October, performance for major dry bulk shipping companies was mixed. Companies like DryShips Inc. (DRYS) had pulled back more than Diana Shipping Inc. (DSX), while a few like Safe Bulkers Inc. (SB) and Navios Maritime Holdings Inc. (NM) were able to hold onto gains in August and September.

Recap of this week's key indicators
Despite recent sell-offs, the medium-to-long-term outlook of the dry bulk shipping industry hasn't changed. Rising ship orders continue to reflect managers' optimism, and the construction level is slowing down, which means future capacity growth will be lower. Higher scrapping activity likely reflects short-term weakness. But if the long-term trend holds, we should see scrapping activity come down soon.
Article continues below advertisement
While early shipments of iron ore led to an earlier peak in shipping rates, and shipping rates (Capesize in particular) have fallen in October, the dry bulk trade should continue to grow into 2014. Falling iron ore prices will reflect new iron ore production rather than weaker demand, which will support iron ore trade.
Despite higher iron ore inventory in China, it remains significantly below the long-term trend line, suggesting room for further purchases of iron ore over the medium to long term. In the short term, we can face headwinds because the interest rate in China has risen and credit is tighter than before. Because holding iron ore at ports costs money, tighter credit and higher interest rate is a short-term headwind. It's important to be cautious, but it's also key not to get scared. With steel price in China near the long-term support, the government would likely step in to support the economy if it faltered.
Silence is golden
As dry bulk shipping rates have fallen, so has the mention of dry bulk shippers in the news. But silence is golden. It's times like this, when nobody is saying anything, that investors are slowly building positions and advancing like silent troops in the night. As long as these trends remain positive, we should see dry bulk shipping companies deliver positive returns over the next few months and quarters.
For those who missed last week's series that contained several indicators about China's economic activity, see Weekly trends that affect dry bulk shipping companies' future.