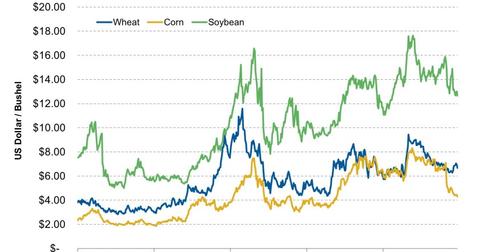 Why crop prices are all down this year, negative for fertilizers
By Xun Yao Chen

Nov. 11 2013, Published 8:00 a.m. ET
The impact of crop price on fertilizer stocks
Crop price can have a significant impact on fertilizer companies' earnings and share prices. When crop prices are high, farmers feel encouraged to use more fertilizers in order to take advantage of high crop prices and earn more. Plus, high crop prices make fertilizers more affordable for farmers, which increases farmers' income and the amount of fertilizers they can purchase for the next planting season. This will ultimately increase fertilizer demand and prices, which will support the earnings and share prices of fertilizer producers.
A record output
Article continues below advertisement
Now that we're right into the harvest season, weather isn't going to have a large impact on crop supply and prices. Most farmers and traders are waiting for the USDA monthly report to be released on November 8, but the market pretty much knows that production this year will be a record and large revisions are unlikely.
Prices are down from last year
Corn prices have trickled down from $4.30 a bushel towards the end of October to $4.21 on November 6, as farmers harvested more new crops and increased available supply. Favorable global production for wheat also drove prices down from $9.00 a bushel to $6.67 a bushel now. With the USDA projecting the fourth-largest soybean output in history, soybean prices also took a fall, dropping from near $16.00 a bushel in early July to $12.66 a bushel on November 1, according to data from CBOT (the Chicago Board of Trade). Given the lower corn price, farmers in Brazil are expected to plant less corn and more soybean. If weather doesn't disrupt production, expect soybean prices to remain low.
Impact on fertilizer stocks
Low corn prices could negatively impact next year's fertilizer demand and prices, which bodes poorly for companies such as CF Industries Holdings Inc. (CF), Potash Corp. (POT), Agrium Inc. (AGU), and Mosaic Co. (MOS). As an ETF that invests in several agriculture businesses, the VanEck Vectors Agribusiness ETF (MOO) will also be negatively affected.
Because the market has pretty much priced a record production, and low crop prices will benefit developing economies, the market might have more or less priced in increased supply. But unless this is also priced into fertilizer stocks, there's a risk that next year's fertilizer demand will be limited.