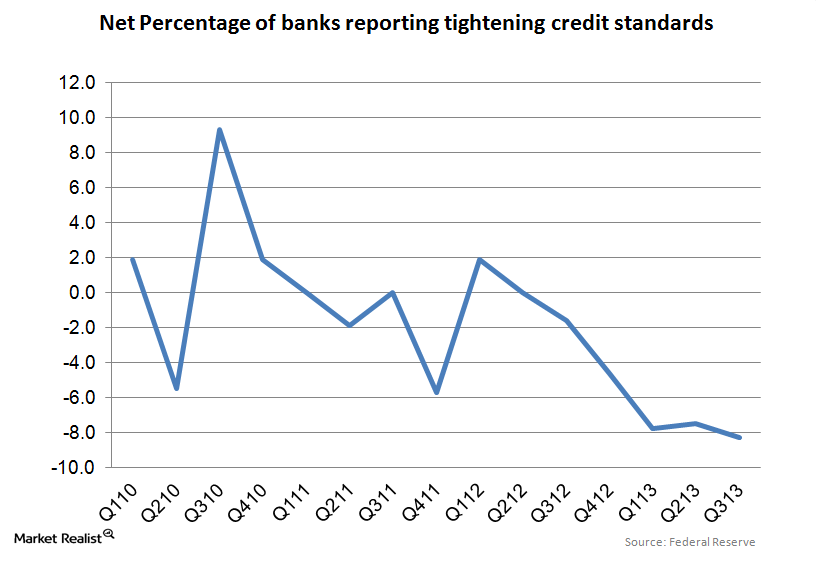 Why credit is still easing but subprime is gone from the banks
By Brent Nyitray, CFA, MBA

Nov. 20 2020, Updated 12:07 p.m. ET
The Senior Loan Officer Survey
The Senior Loan Officer Survey is put out by the Federal Reserve every quarter. The Fed surveys up to 80 large domestic banks and 24 foreign banks. It conducts the survey quarterly, but it's on a January, April, July, and October schedule in order to be available for the upcoming FOMC (Federal Open Market Committee) meetings. The survey questions cover changes in lending standards and the state of loan demand, both from consumers and businesses. Like most Fed surveys, often there are a couple of questions that address themes in the market.
Article continues below advertisement
Credit eased during the quarter, but it was primarily associated with commercial real estate and commercial or industrial lending. Consumer lending and mortgage lending standards eased, but only barely. The vast majority of banks reported no changes in standards. Here were the results.
Highlights of the Survey
Prime residential loans: Prime residential loans include loans made to borrowers that typically had strong credit, had well-documented credit histories, and were plain 30-year fixed-rate or ARM (adjustable-rate mortgage) loans. Of the 69 banks surveyed, 55 (or 80%) reported no change in standards, while four (6%) tightened standards and ten (14%) reported loosening standards. One said it didn't offer prime residential loans.
Nontraditional residential loans: Nontraditional residential mortgage loans include limited documentation, alt-A, non-owner occupied, and pick-a-pay loans. Of the 69 banks surveyed, 37 (or 54%) said they don't offer nontraditional residential loans. Of the remaining banks, 29 (or 88% of the remainder) reported no changes, while two tightened standards and two eased standards.
Subprime residential loans: These are loans to borrowers that had weakened credit histories, payment delinquencies, high debt-to-income ratios, or incomplete credit histories. Of the 69, fewer than three said they offered subprime. In the last survey, there were some bankers who did offer the product. It appears that the new QM rules have scared them away. Subprime is now going to be something that nontraditional lenders like hedge funds offer.
Commercial real estate loans: These are loans for construction and land development, typically secured by multifamily residential properties. Of the 71 banks surveyed, 58 (or 82%) reported no changes, while 10 (14%) eased somewhat and three tightened.
Implications for homebuilders
The easing of standards for multifamily construction isn't necessarily good news for builders, since they compete with multifamily rentals for households. That said, the easing for prime residential loans is good news for them.
During third quarter earnings, almost all CEOs reported tight credit as a constraint to their growth. Certainly homebuilders that focus on the lower price points like PulteGroup (PHM) and Beazer (BZH) reported drops in orders due to higher home prices and also credit difficulties among first-time homebuyers struggling with student loan debt. We have yet to hear from Toll Brothers (TOL), which concentrates on the luxury end of the market. Other homebuilders like Lennar (LEN) and KB Home (KBH) reported strong numbers, but they're in attractive geographic and demographic segments.