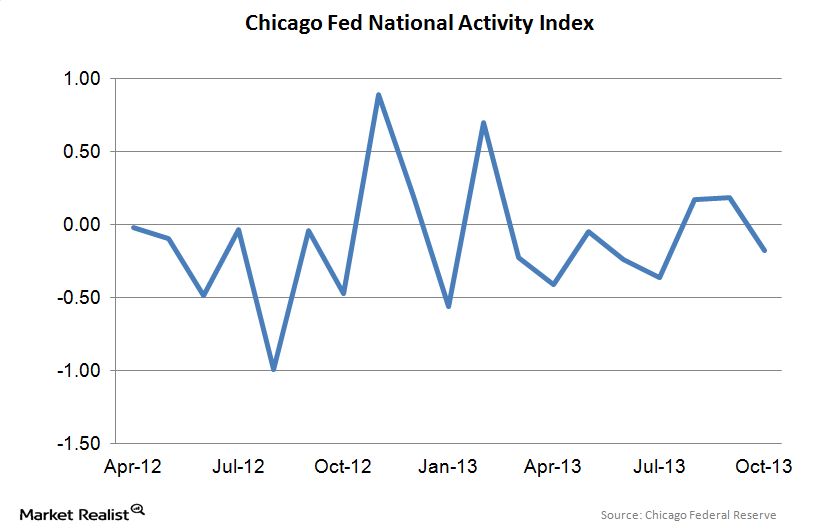 The Chicago Fed National Activity Index shows economic expansion
By Brent Nyitray, CFA, MBA

Nov. 20 2020, Updated 3:46 p.m. ET
The Chicago Fed National Activity Index measures whether the economy is expanding on, above, or below its historical trend
The Chicago Fed National Activity Index (CFNAI) is a weighted average of 85 different economic indicators from four basic categories: production and income, employment-related indicators, personal consumption and housing, and sales, orders, and inventory data. A zero value for the index means the economy is growing at its historical trend, a positive number means it's growing above trend, and a negative number means it's growing below trend. The index itself can be volatile, as you can see from the following chart. Generally, most economists focus on the three-month moving average, and when the average gets outside a range of -0.7 to +0.7, it usually signals turning points in the economy. Given that the index is basically an amalgamation of different economic indicators that have already been released, it isn't really a market-moving index—but it is a good top-down view of how the economy is generally performing.
Positive reading, but three-month moving average still negative
Article continues below advertisement
After hitting +0.56 in February, the index bounced back into negative territory for the next five months. August and September were positive, but October fell back to -.18. The three-month moving average was +0.06, meaning the economy is growing ever-so-slightly above trend. A reading of -0.7 usually indicates that a recession has started. Employment-related indicators were negative, at -0.05, as was production, at 0.01. Consumption and housing ticked up slightly to -0.15. Overall, the index shows an economy growing slightly below trend but still improving.
Implications for homebuilders
Altogether, the report shows the economy is still expanding moderately—more or less in line with its historical trend. For the real estate sector, consumption and housing remained steady, although still below historical trends. While the housing sector has improved markedly from a year ago, the rise comes from a very low base and is still below what we would consider "normalcy."
Overall increases in business activity and consumption are starting to drive more business for homebuilders, like Lennar (LEN), KB Home (KBH), Toll Brothers (TOL), Standard Pacific (SPF), and NVR Corp. (NVR). Housing starts have been so low for so long that there's some real pent-up demand that will unleash as the economy improves. We're just about through the earnings season, and nearly everyone reported good numbers—although order growth has gone negative for several builders. Margins are still high, as the builders are taking advantage of the low supply to boost prices.