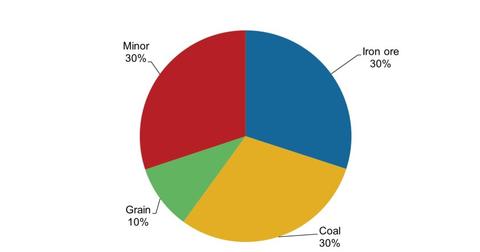 Breaking down dry bulk demand and China's pull in the industry
By Xun Yao Chen

Nov. 19 2013, Published 2:55 p.m. ET
Major and minor bulks
We can largely break down the dry bulk shipping industry into two categories: major and minor. Major dry bulks consist of iron ore, coal, and grain, which depend more on economic activity. Minor bulks are smaller. Examples include sugar, steel, and cement.
Major bulks
Major bulks like iron ore and coal make up a large part of the global dry bulk trade. In recent years, shipments of iron ore and coal have amounted to 1,000 million metric tonnes each. Together, they represent ~60% of the global dry bulk trade volume. While grain shipments (corn, soybean and wheat) of ~330 million metric tonnes a year pale in comparison to key industrial inputs like iron ore and coal, they still make up more than 10% of the dry bulk shipping business.
China's importance
Article continues below advertisement
As one of the largest centers for industrial manufacturing, China represents a major destination for all these dry bulks. China's share of global dry bulk imports has increased at incredible rates over the last decade. Approximately 70% of the world's iron ore and 25% of coal trade is delivered to China.
We can divide coal into two categories: coking coal and thermal coal. Thermal coal is primarily used to power electricity and generate heat. Coking coal, on the other hand, is mixed with iron ore to produce steel. In China, more than half of steel is used in property, construction, and infrastructure, according to KPMG. So, as one of the fastest-growing countries in the world and a large importer of dry bulks, investing in dry bulk shipping companies is kind of like investing in China's infrastructure.
Global trade is macro
This doesn't mean investors should ignore what's going on in the United States or Europe, however. In fact, China's largest trading partner is Europe, exchanging primarily machinery. Since China has historically relied on global demand, and the shipping business is international, the world's economic activity can affect demand for dry bulk trade and the performance of investments like DryShips Inc. (DRYS), Navios Maritime Partners LP (NMM), Safe Bulkers Inc. (SB), Navios Maritime Holdings Inc. (NM), Diana Shipping Inc. (DSX), and the Guggenheim Shipping ETF (SEA).