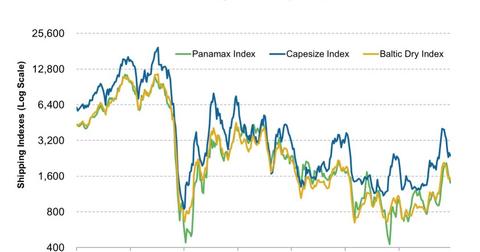 As the Baltic Dry Index turns, Soros tests dry bulk shipping
By Xun Yao Chen

Updated
Dry bulk shippers
The companies that Soros bought are some of the largest publicly traded dry bulk shipping companies in the world. These companies, which haul dry bulk materials like iron ore, grain, and coal, used to be valued in multi-billion dollars.
Shipping rates went into depression
However, since large orders were placed amid rising dry bulk rates in the 2000s, new deliveries led to excess supply and the value of these stocks fell into the millions. The Baltic Dry Index, an index that reflects the average daily equivalent rate of renting a vessel and operating crew, collapsed over the same period. Several hedge funds and traders have shorted these companies in the past.
Life is returning
Article continues below advertisement
But after years of year-over-year declines in the index, life has returned. Shipping rates are now above last year's high for the first time in years, which got the market excited. An early restocking of iron ore at Chinese ports had pulled normal seasonal increases during the second half of the year earlier into August and September, which led to the sharp in shipping rates.
Rates are higher than 2012
An early seasonal increase means an early seasonal end. Rates have fallen since then, but you should note that shipping rates are holding above last year's highs despite the recent decline. This suggests improvements in the supply and demand balance. As of November 20, 2013, the Baltic Panamax Index stood at 1,346 and the Baltic Capesize Index stood at 2,511. The overall Baltic Dry Index stood at 1,527.
Positions at the end of Q3 are positive
Because the 13-F only reports the holdings at the end of September, we don't know whether the fund purchased these companies before the recent rally or after—though positions at the end of September 30 likely reflect some positive assessment regarding the future outlook of the industry.
In the next parts of this series, we'll take a look at some of the latest news that will benefit dry bulk shippers.