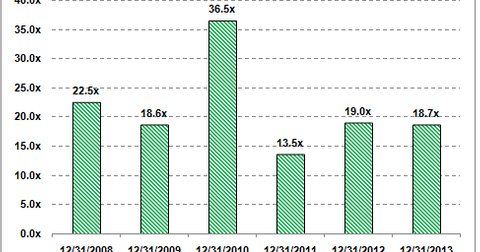 AQR Capital Management starts new positions in FOXA, MAKO and sells ARO, GHL, PBF, EBIX—13F Flash C
By Samantha Nielson

Updated
AQR Capital Management is an investment management firm founded in 1998 by former Goldman Sachs portfolio manager Clifford Asness along with partners David Kabiller, John Liew, and Robert Krail. According to its website, it has over $90.2 billion in assets under management (as of September 30, 2013) for institutional investors, including pensions, insurance companies, endowments, foundations, and sovereign wealth funds, as well as registered investment advisors. The company is based in Greenwich, Connecticut.
Abbreviated financial summaries and metrics for these securities are included below. Detailed analysis and recommendations require a subscription (more information at the bottom of the article).
The firm started new positions in Twenty-First Century Fox (FOXA) and Mako Surgical Corp (MAKO) and sold positions in Aeropostale Inc. (ARO), Greenhill & Co. Inc. (GHL), PBF Energy Inc. (PBF), and Ebix Inc. (EBIX).
Why sell Greenhill & Co. Inc. (GHL)?
Article continues below advertisement
Greenhill & Co. reported a 29% fall in its 3Q revenues to $44.5 million compared to 3Q 2012. Advisory revenues for the quarter were $47.0 million compared to $72.7 million for the third quarter of 2012. Investment revenues for the third quarter of 2013 were negative $2.4 million compared to negative $10.0 million in the third quarter of 2012. The advisory firm said the third quarter was a slow one for transaction completions for both the market generally and the firm. It added that earnings announcements from its nine large bank competitors year-to-date look on track to show double-digit declines in advisory revenue for the year to September 30 and larger declines for the full year, in sharp contrast to Greenhill's more favorable results.
It said  2013 is turning out to be another relatively quiet year in terms of global transaction activity, with global mergers and acquisitions volume still about half of what it was at the 2007 peak and European activity down considerably more. Despite that challenging market, it expects 2013 to be another solid year for the firm. It said its financial performance metrics are poised for significant improvement when transaction activity generally picks up, and its growing market share will more fully pay off at that time.
AQR manages a wide array of investments, spanning from aggressive high-volatility market-neutral hedge funds to benchmark-driven traditional equity funds. It makes investment decisions across all funds using a series of global asset allocation, arbitrage, and security selection models and implements them using proprietary trading and risk-management systems. Both the traditional benchmark and market-neutral strategies are managed by the same portfolio teams and driven by the same underlying research. The firm began with a quantitative equity hedge fund and today offers a variety of quantitatively driven hedge fund and traditional investment vehicles to both institutional clients and financial advisors.