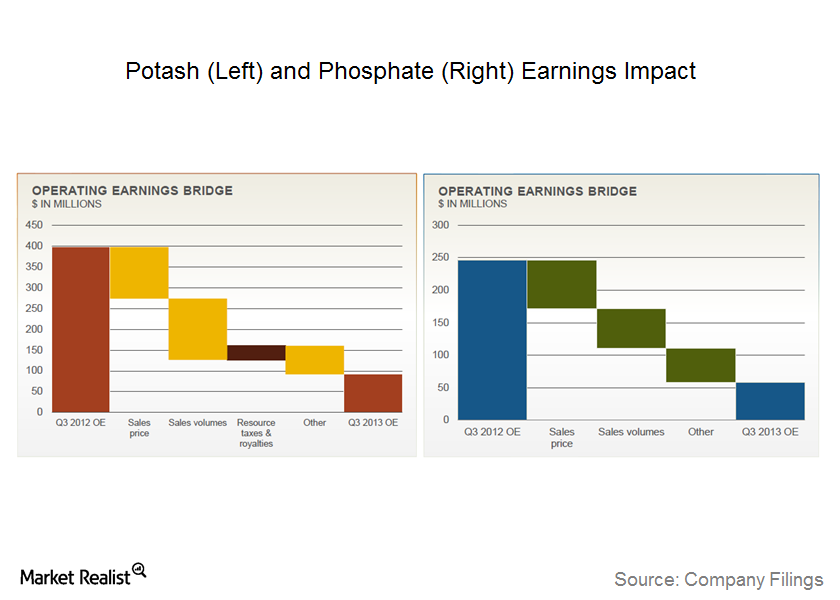 2 key factors that drove Mosaic's 3rd quarter earnings down
By Xun Yao Chen

Nov. 22 2013, Published 8:00 a.m. ET
Mosaic Co. (MOS)
Mosaic is the world's largest phosphate and potash fertilizer producer. Sales of these two products tend to be more price-sensitive than the most widely used nitrogenous fertilizers and have been going through cyclical declines over the past two years. These fertilizers are non-substitutable to each other, because each provides different benefits to crop growth.
Lower prices and volumes
Article continues below advertisement
Third quarter 2013 operating earnings for Mosaic's phosphate and potash segments were negatively impacted by lower sales prices and sales volumes. Lower sales prices for both potash and phosphate had negatively impacted earnings by ~30% compared to the same quarter in 2012, while weaker sales volume had negatively affected potash earnings more than phosphate. Lower prices and lower volumes suggest demand for 2013 is weaker than last year—although increased production and capacity also intensified competition among major producers.
Weak demand and cautious buying
Prices slipped lower over the past few months and quarters due to weak shipments into India and China, which together account for ~25% of global imports in an ordinary year. A late harvest in North America also delayed purchases, while the breakup of Uralkali and Belaruskali also added uncertainty to where market prices will be set. So, many buyers stood on the sidelines.
Soft conditions to persist for a while
Management expects these soft conditions to persist into 2014 but sees a future recovery in demand because the world needs fertilizer to support growth in food demand. Improvements in domestic demand are expected, as the North American harvest is winding down and farmers are focusing on fall applications, which will run down inventories. But the company noted, "We do not expect any meaningful short-term price appreciation."
In the next part of this series, we'll take a look at why this might be.