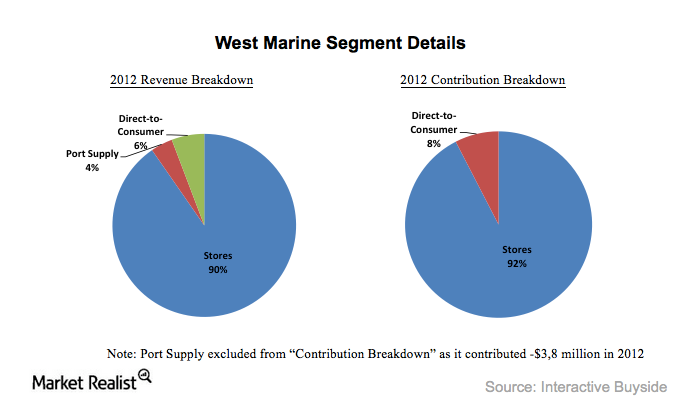 West Marine analysis: Why West Marine is an undervalued retailer
By Judy Krandel, MBA

Oct. 29 2019, Updated 5:07 p.m. ET
West Marine, Inc. (WMAR)
West Marine is an undervalued retailer. The company is going through a change in focus from a bricks-and-mortar boat product retailer to a fully integrated retail and wholesale business through bricks and clicks, targeting the boating and water enthusiast customer. Recent results have been affected by a severe rainy and cool spring, which hurt boat usage and delayed the start of the season. The company has accelerated cash investments to build larger, more productive stores and expand its eCommerce abilities, consequently affecting free cash flow short-term. The stock lacks sponsorship, as there is only one research report written on the company by a small boutique firm. The stock trades at only book value despite the company being the leading industry player with a solid balance sheet and significant net cash position.
Article continues below advertisement
West Marine (or WM, ticker WMAR) is the largest specialty retailer of boating supplies and accessories. There are approximately 12 million registered boats in the US and over 22 million total. US boaters spend 3 billion hours annually on the water. The boating supplies business is roughly a $5 billion worldwide market and WM has about a 13% share today.
The company began as "West Coast Ropes" in the founder's garage. He still owns 30% of the company today. WM has almost 300 stores in 38 states, Puerto Rico, and Canada (10), and five franchised stores in Turkey. International sales are less than 5% of the total. The stores are located primarily on the coasts near the boaters. The company has tried inland strategies in the past that were mostly unsuccessful. Above is a map of store locations.
The company also runs a wholesale distribution business called Port Supply, which sells boating products to commercial customers. Given its scale, WM has the most buying power and best supply chain in its industry. The company historically reported three segments: Stores, Port Supply, and Direct-to-Consumer (catalog, Internet, and call center transactions). Segment details as follows:
WM has now integrated all systems into one reportable segment and looks at its business as one omni-channel retailing.
The Market Realist Take
Article continues below advertisement
West Marine said net revenues for 3Q 2013 were $193.4 million—an increase of 0.7% compared to net revenues of $191.9 million for 3Q 2012. Comparable store sales, which now include sales from the company's direct-to-consumer and wholesale channels, increased by 0.9% over the same period last year. Sales showed modest improvement, driven primarily by higher growth from its strategies.
During 3Q 2013, West Marine opened three flagship stores, achieved stronger sales in its merchandise expansion categories, and experienced good momentum in its eCommerce business. However, the stronger performance from its growth strategies was offset by continued softness in maintenance and usage-based products. The company is debt-free and has $69.9 million in cash as of 3Q 2013. It said in its 3Q 2013 earnings call that it expects to reposition itself by focusing on core customers and expanding its eCommerce merchandise and store optimization strategies. It expects to grow as a brand, which should motivate customers to shop at West Marine stores for more than just boat supplies.
Boating stocks' fortunes are subject to changes in the weather and the economy, as boat purchases are discretionary and the industry sees increasing sales when the economy improves. West Marine's competitors in the boating industry include Brunswick Corp. (BC), a manufacturer of products in the marine, fitness, bowling, and billiards industries, Marine Products (MPX), and MarineMax (HZO), which concentrate on specific segments of the boating industry.
In terms of specialty retail, retailers have been experiencing growth due to online sales outperforming sales from brick-and-mortar stores. However, the higher sales come at the cost of margins being affected by rising shipping costs. Wal-Mart (WMT) plus online retailers Amazon (AMZN) and Google (GOOG) and apparel retailers Destination XL (DXLG) and Destination Maternity (DEST) have been cited as the public competitors for West Marine.