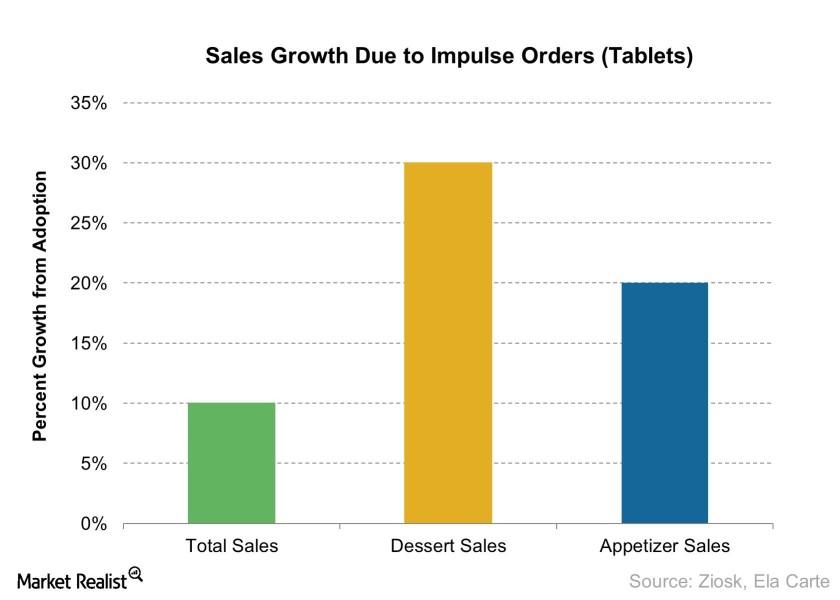 Want to invest in iPads or tablets? Consider restaurant stocks
Invest in restaurants to invest in tablets
Most people think they must invest in technology companies like Apple or Samsung to profit from emerging technological trends—like the touch phone, the tablet, and the iPad. But restaurant companies also benefit from finding ways to use tablets to reduce cost increase efficiency and improve customer satisfaction. In this series, we'll investigate the benefits of using tablets and which companies are doing what to improve financial performance and share prices. These companies include Panera Bread Inc. (PNRA), Dine Equity Inc. (DIN), and Brinker International Inc. (EAT). Perhaps the overall adoption of tablet and iPad helps the Consumer Discretionary SPDR ETF (XLY) as well.
Marketing tool
Article continues below advertisement
While we're three years into the introduction of the iPad, the tablet still amazes people. It's still very exciting to see one—especially at a restaurant, when the waiter walks to your table carrying not a menu but an iPad (well, an iPad that includes a digital menu). It certainly does sound like we're one step into the future. And the image you once had of that restaurant you used to go to isn't something of the past, but something in the present. It grabs your attention and brings new life to the business. When you see a tablet, you have the urge to hold it and play with it—or at least kids often do.
Impulse orders
For restaurant owners, tablets are like the Trojan Horse, when the Greeks simply hid inside a wooden horse to trick the citizens of Troy as a parting gift to sneak through their enormous wall. Simply placing the device near customers is a powerful marketing tool that capitalizes on human nature's immediate satisfaction. Experts say that tablet use can drive a 10% boost in sales, according to Ela Carte, a companies that specifically provides tablets for restaurants. Another major player, Ziosk, reports increases of 30% in dessert sales and 20% in appetizer sales for the companies it serves. Brinker International Inc. (EAT), which uses tablets, is expected to roll out the tablets into most of its remaining 1,266 restaurants as early as next year, according to WSJ.
Leveraging on information
Not only does tablet use drive consumption, but restaurant owners can also leverage on information gathered from customer surveys—which are said to be 20 times more effective than traditional printed receipt methods. With these surveys, which DineEquity (DIN) is testing it out with tablets from Ziosk to Presto to eTab, company managers can tailor food to specific geographies (and sometimes to specific individuals through membership programs) and strengthen their competitive positioning in terms of menu and prices against nearby restaurants to drive long-term bottom line (earnings) performance. This ultimately has an impact on share prices.