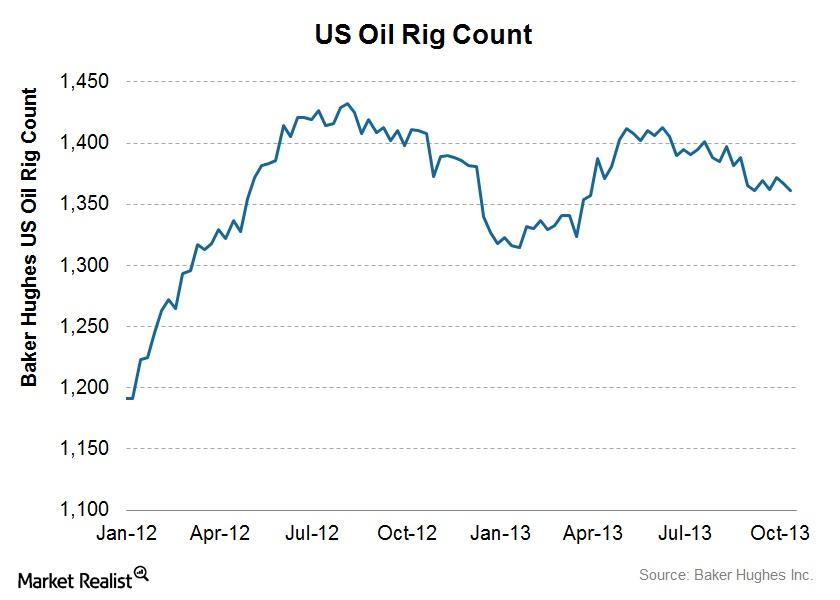 Why US oil rigs have been trending downward since mid-year
By Ingrid Pan

Dec. 4 2020, Updated 10:53 a.m. ET
Oil rig counts decreased last week, down ~4% since June
Last week, the Baker Hughes oil rig count decreased from 1,367 to 1,361. Oil rig counts have been on a slight downward trend since mid-year. Rigs drilling for oil peaked this year in June, at 1,413, but have since fallen about 4%. Though the drop could signal that major oil producers in the US such as ExxonMobil (XOM), ConocoPhilips (COP), Hess Corp. (HES), and Chevron (CVX) are feeling less sanguine about the oil price and drilling environment, as less capital is being put to work to produce oil, the drop may be due to increased efficiencies in drilling. Baker Hughes on its 3Q13 earnings call noted that it anticipates 4Q13 US rig counts to average 1,660 rigs (1,320 oil rigs and 340 gas rigs), a slight decline from current levels, with the sequential decline mostly due to seasonality heading into the winter and holidays.
Recent prices have actually been supportive of oil drilling, as WTI crude has remained elevated in the $100-to-$115-per-barrel range over the past few months and has remained high throughout 2013, supporting a high oil rig count.
Background: US rig counts increased rapidly since the recession, but have since flatlined
Article continues below advertisement
When the worst of the recession hit, US oil rig counts fell from over 400 to nearly 175. Since bottoming around mid-2009, two major trends caused oil rig counts to rebound rapidly. Firstly, when oil prices sank to below $40 per barrel in early 2009, no one was looking to drill for oil—both because it was unprofitable and because frozen capital markets made raising money to fund capex programs expensive. In 3Q09, oil prices recovered to roughly $70 per barrel. Raising money in the capital markets was starting to become easier. Secondly, during that period, companies were beginning to drill basins that became attractive with the help of new technology, notably shale basins. From mid-2009 to now, more and more oil rigs began working in places like the Bakken Shale in North Dakota, the Eagle Ford Shale in South Texas, and the Permian Basin in West Texas, where previous drilling activity had either stagnated or been minimal.
Oil rig counts dipped somewhat in mid-2012, as that period was characterized by some volatility in oil markets, with WTI crude oil prices dropping from over $100 per barrel to under $80 per barrel. Oil prices since recovered, and so have oil rig counts. However, as we previously noted, despite relatively buoyant oil prices, there isn't much upward pressure on rig counts currently, as producers are able to be more efficient and produce the same or more production with fewer rigs.