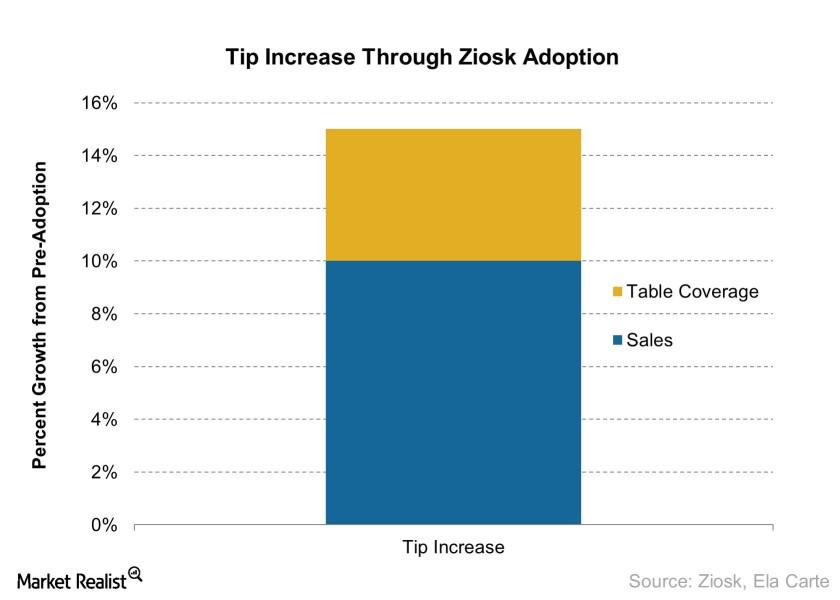 Tablet ordering can increase efficiency and guest satisfaction
Customization and smaller dishes
From Nikki to Starbucks and Chobani to Chipotle, customization appears to be the trend. With a tablet menu at the table, guests can take their time to decide on what ingredients they want in their dish without the necessary pressure of a waiter at their table—especially during busy hours at casual dining restaurants.
Smaller dishes are also the trend, with Applebee's—a brand under Dine Equity Inc. (DIN)—promoting 75 meal combinations that start at $7.99. As technology use allows restaurants to get better insight into customers' likes and dislikes, restaurant dishes can become personalized. Even requests like how much salt you want in your dish could be possible in the future.
Article continues below advertisement
Tablet use, spurred by Apple's (APPL) iPad, provides a way for customers to feel relaxed and make selections easier because every option is right in front of them. It also helps restaurants reduce employee downtime, which may arise if another customer at a different table is waiting to order, make a payment, or receive change or credit.
Increase turnaround and reduced order time
With a tablet, the customer doesn't have to worry much about when payment is coming back or when they could place an order. They are in control. The average table turnaround is said to increase by seven minutes using tablets. Assuming a meal at a table takes about 50 minutes, those seven minutes can lead to an additional revenue of 16% if all tables were filled. Of course, that's too optimistic, because not all restaurants will have fully occupied tables all the time. But it's still highly important during the busy hours like lunch and dinner. Besides, with an increase in efficiency, future stores may not be as large.
Employees receive more tips
Tablet use also helps employees, as they can cover more tables because orders and payments are taken primarily by the iPad or other tablet. According to Ziosk, which is a tablet supplier to Brinker Internationa Inc. (EAT), tablet use has been tested to show an increase of 15% in tips for employees—10% likely due to higher sales and the remaining 5% probably due to more table coverage. As one server noted, "I really didn't think Ziosk would work. Then I decided to give it a real try. My tips JUMPED! I made more money on every shift and I was able to take more tables."
Panera tests methods to drive efficiency
Panera Bread Co. (PNRA) is currently experimenting with tablets and web ordering programs to drive efficiency. Rather than waiting in line at the counter to order when customers step inside, they can go straight to a tablet with a web ordering application and place their order. Better yet, customers can also place orders while they're on the go so that by the time they arrive at the shop, their meal is ready. Although the test is only available at certain shops in the Boston, Charlotte, and Minneapolis markets, if the system does prove to generate more returns, expect it to roll out nationwide.