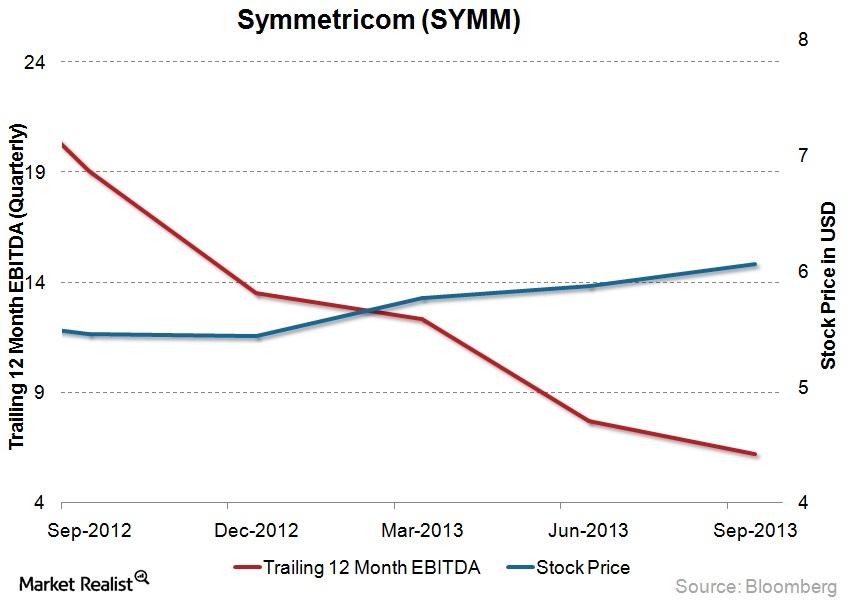 Symmetricom analysis: Why the company's stock should recover
By Samuel Madden, CFA

Oct. 29 2013, Updated 12:53 p.m. ET
Symmetricom, Inc. (SYMM) detailed investment thesis
The "Old SYMM" presently outweighs the new/good, and (as mentioned previously) is leveraged to traditional sync timekeeping solutions on the communications side. On the government/enterprise front, you have frequency instruments and other time and measurement solutions that are highly leveraged to the at-risk DoD spending/budget. Reversing the sign of the Ethernet backhaul and small cell trajectory, and allowing for some offset from more cell sites, I estimate a (15%) annual decline on the communications side of "Old SYMM." I expect "Old SYMM" government business to decline (17%) annually in step with the forecast for the DoD's C4ISTR (command and control, intelligence, surveillance, target acquisition, and recon) budget, but exacerbated by non-contracted business reductions.
Taken together, I build what I consider is a reasonable case for a consolidated SYMM that should begin to recover +3% annually (by FQ4'14) and likely more as the mix shifts to New SYMM.
Restructuring implications
Article continues below advertisement
The other critical part of the thesis is the current flux in operations and management due to ongoing restructuring. The company is no stranger to restructuring, having spent $13 million in 2011 to convert to an outsourced manufacturing model and recently taking $4 million of costs out of the business this year by eliminating 4% of the labor force. Following the FQ3 call, CEO Dave Cote as well as the CTO and EVP of products stepped down to pursue other interests. Last week, management announced another spate of cost cuts in which 12% of the workforce would be eliminated to the tune of $13 million in run-rate savings by the end of 2013. I estimate this will add about 300 basis points of gross margin ($8 million) and deleverage $5 million from the fixed cost base.
Cote's successor (Elizabeth Fetter) appears to know the company well, having been on the Board since 2002, and brings managerial experience consistent with the growth trajectory of "New SYMM." She was recently head of NxGen, a private provider of modular data centers, a market in which half of all data centers are expected to be modular in five years. Whether she is up to the restructuring task over the next few difficult quarters remains to be seen and will be a key area of focus. Fortunately, the second half of the year is seasonally slower for SYMM and the CFO, Justin Spencer, remains there as a steadying force from the 2008 days, when SYMM still had its longest tenured (ten-year) CEO of the 2000s, before he retired. Fetter received a $900 thousand options package struck at $5.08/share (+13% to current), almost double her $475 thousand salary and roughly equivalent to her all-in target cash comp, assuming she hits the performance metrics that are still TBD. Sounds like a pretty good incentive to fast-track "New SYMM" to me.
Article continues below advertisement
Final point: this name is hardly covered by the sellside, only B. Riley and Sidoti, the latter of which reaffirmed its buy rating last week. Lack of coverage, coupled with the small market cap and middling liquidity (average daily 115 thousand shares traded on a 41 million float), means this name could be dead money for a while.
June '13–December '13: Completion of workforce cost saving initiatives, spending $6.3 million of cash and targeting $13 million of annual run-rate savings.
Share buybacks: In November 2011, the board authorized a $5 million (12% of float) buyback program after stock tanked post-restructuring announcement. $1.9 million of repurchase power remains outstanding although it has already closed its 10b-5 program. Buybacks were executed in the $5.60s during FY'12 (+24% current) and $6.20s during FY'13 (+37%). The company has $70 million of cash and equivalents, equivalent to 38% of the current market cap.
December '13–June '14: Leap second insertion (potentially done either June or December of a given year with a six-month lead time) could cause major disruptions and accelerate conversion of time standards to PTP. On June 30, 2012, 400 Qantas flights were delayed due to insertion. Mozilla, Reddit, LinkedIn, and others also crashed.
2015: ITU meeting on potential decision to abolish leap seconds from civil timekeeping, fast tracking the conversion from NTP to PTP standards
The Market Realist Take
The company said in its September 10K filing that the decrease in Communications revenue in 4Q13 is due to lower sales of synchronization products. The decrease in Government and Enterprise segment revenue is due to a decline in Symmetricom's government programs revenue, sales of GPS and time code instrumentation, network time servers, and precision frequency references, driven largely by lower US government spending. These declines were partially offset by higher sales of its new chip scale atomic clock. Gross profit as a percentage of revenue for its Communications segment increased to 52% in fiscal 2013, compared to 50% in fiscal 2012, due to lower manufacturing costs. Gross profit as a percentage of revenue for its Government and Enterprise segment decreased to 36% in fiscal 2013, compared to 37% in fiscal 2012, due to an unfavorable product mix. This was partially offset by lower manufacturing costs. Corporate-related charges decreased $0.2 million due to lower restructuring charges in fiscal 2013.