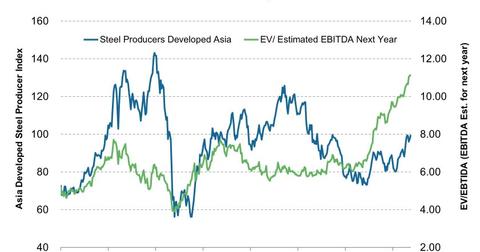 To see the future of shipping, you should follow steel profits
By Xun Yao Chen

Updated
Valuations and outlook
Sometimes, instead of looking at what's happening within the shipping industry, investors may gather more important insight by looking at how customers are doing—using steel producers. One quick way to find out the future outlook of a cyclical industry like steel is to look at how the valuations and share prices of steel companies are changing, as Peter Lynch mentioned in his famous book Beating the Streets.
Record valuation: EV/EBITDA
Article continues below advertisement
On October 18, the EV/EBITDA (enterprise value/earnings before interest, tax, depreciation, and amortization expense) valuation multiple for steel producers in developed Asia (including Korea, Japan, Singapore, Taiwan, and Hong Kong) stood at 11.16 times, based on 2014 EBITDA estimates made by analysts in Asia. The equal-weighted price index rose to a record 99.72 since 2012.
Analysts versus the market
High valuation means that the market is paying a high price for each dollar of profit the company or industry is expected to make. On the one side, this may mean that the market is overpaying. But it could also mean that analysts as a whole are overly pessimistic, and that analysts are wrong.
Following the past few years of a data, it seems like the market has moved ahead of analysts. Analysts as a whole are either extremely bullish (positive) or bearish (negative) when fundamentals are about to change. For example, from 2007 to 2008 and in 2011, EV/EBITDA (next-year estimated) kept falling, while share prices rose higher.
This implied that analysts were constantly revising their earnings higher. For a growing company that has limited competition, higher earnings often translate to higher share prices. But in a competitive industry with little product differentiation, fundamentals often revert to the mean. The share prices of developed steel manufacturers eventually collapsed.
High valuation would be positive for shipping
Now, the market appears to be paying a high price for what analysts are projecting. If the market is moving ahead of analysts, like it did in the past, then we should expect steel companies to earn higher profits over the next few months and years. Higher profits for steel manufacturers would mean demand for steel and iron ore is strong, which would benefit shipping companies like DryShips Inc. (DRYS), Navios Maritime Holdings Inc. (NM), Safe Bulkers Inc. (SB), and Diana Shipping Inc. (DSX), as well as the Guggenheim Shipping ETF (SEA).