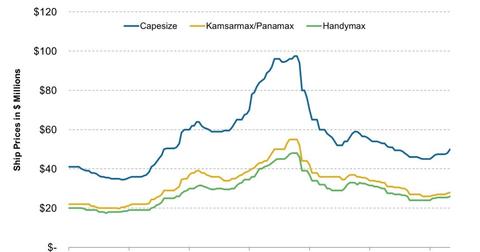 Scorpio and Diana's higher purchase prices support dry bulk stocks
By Xun Yao Chen

Updated
The significance of vessel values
The prices of new builds are useful indicators that reflect the dry bulk shipping industry's future fundamental outlook. New prices often rise because of higher orders for ships. Usually, this is the result of managements' speculation that future shipping rates (which can increase or stay the same from the current level) will be profitable enough to generate good returns from these new assets. Conversely, if future rates are expected to be unprofitable, then demand for new ships and ship prices will fall.
Scorpio just acquired vessels that are higher than September's values
Article continues below advertisement
Last week, we mentioned that prices for new build prices had risen to $50 million for the average Capesize ship in September, following an uptrend seen since the beginning of this year. Panamax and Kamsarmax vessels also rose in price, rising from 27.5 million in August to $28 million in September, according to RS Platou Economic Research.
In October, we're likely to see a continuation of that trend, based on new purchase orders that companies have gotten into already. Scorpio Bulkers and Paragon Shipping are two examples of companies that have purchased vessels since the start of this month. Scorpio Bulkers had ordered a massive number of 15 fleets comprised of 11 Ultramax dry bulk vessels of 60,000 dwt to 64,000 dwt (deadweight tonnage) and 4 Kamsarmax dry bulk vessels of 81,000 DWT to 84,000 DWT from yards in Japan and China.[1. Ultramax ships is a class slightly smaller in size compared to the typical Panamax vessel.]
With a total agreed upon purchase price of $455 million, each vessel is priced at around $30.3 million, which is an increase from the $30 million that RS Platou had reported for the month of September. This rise reflects manager optimism that rates will be profitable enough to run these ships when they are delivered in 2015 and beyond.
Diana Shipping Inc. just raised its second-hand value
The day after Scorpio's announcement on October 7, Diana Shipping Inc. (DSX) had announced on October 8 that it signed an agreement to purchase a 2013-built Capesize dry bulk vessel for a price of $52 million the day before, which is expected to be delivered to Diana in mid-2014. In September, resale value for second-hand capesize vessels held at $50 million, lower than what Diana agreed to purchase the second-hand dry bulk vessel for.
Second-hand value ships become more attractive in an up cycle
Since the second-hand values of new dry bulk vessels can be employed immediately, unlike ships that need to be constructed, they have historically been priced higher than new build prices. Plus, when rates are in a cyclical uptrend, the ratio between second-hand value and new build prices often rises, as companies try to take advantage of higher rates and investment becomes more attractive since they can receive cash flows sooner. September's increase in this ratio to 100% was an encouraging sign that medium- and long-term rates are expected to improve.
Long-term positive maintained for dry bulk shippers
While the government shutdown and approaching debt ceilings may be worrisome, the trend remains positive for dry bulk shipping stocks like DryShips Inc. (DRYS), DSX, Safe Bulkers Inc. (SB), Navios Maritime Holdings Inc. (NM), and Navios Maritime Partners LP (NMM) over the medium to long term.