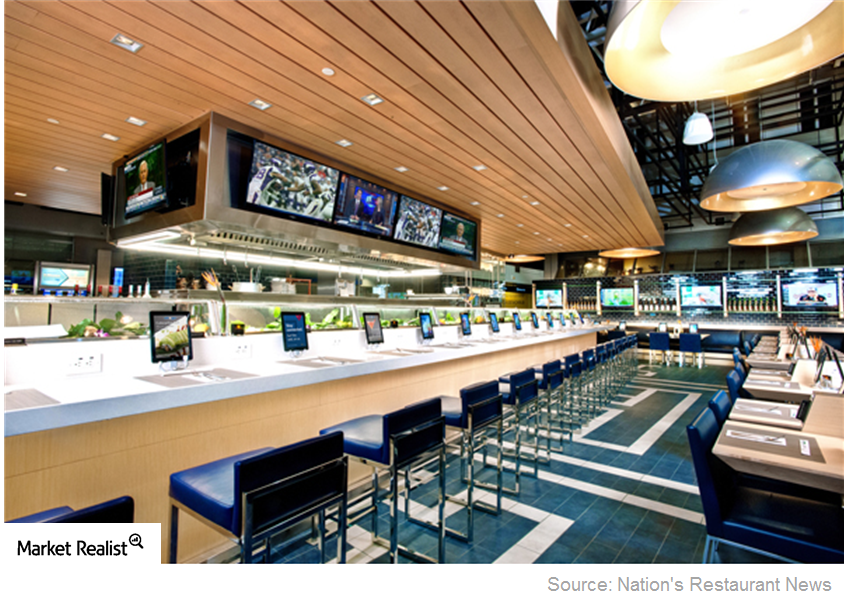 Why restaurants improve efficiency with tablets and technology
By Xun Yao Chen

Oct. 22 2013, Published 9:00 a.m. ET
More efficient food delivery
The benefits of using tablets and technology extend beyond just table coverage for companies like Brinker International Inc. (EAT) and DineEquity Inc. (DIN), and possibly for Cheesecake Factory Inc. (CAKE) and Buffalo Wild Wings Inc. (BWLD) in the future. Combined with location pinpoint technology like RFIDs (radio-frequency identification), tablets can help servers quickly identify which table orders are coming from.
Article continues below advertisement
This will allow servers to spend less time wondering about the location they have to bring dishes to and more time on the actual delivery, giving customers an impression of operational efficiency, reducing cost for restaurant operations, and driving earnings higher. This is even more important when employment level in the United States is weak and people are still trading down to lower cost food. As Dave Praws, executive chef for Blue Lemon LLC says, "We're able to deliver food quickly and efficiently and, in fast-casual, that's what we are about. Without that ability, we'd be 'slow-casual.'"
The picture above shows tablet use at the Minneapolis-Saint Paul airport, operated by OTG Management—a private company that owns and operates restaurants, bars, and eateries in airports.
The kitchen becomes speedier
As a way to encourage kitchen efficiency, managers can also use the order system to set a performance benchmark. For example, at Jason's Deli, Michael Johnson (a regional manager) said the management has set acceptable order preparation that spans from six to eight minutes for each order. When the order has been in the pipeline for six minutes, information turns yellow on the counter/expo station display, which lets preparers know that customers have been waiting for quite a while and they have less than two minutes to finish preparing it. "For employees, the ticket-time expectations are clearer," said Johnson. "The system makes it a lot easier to look up and see this one needs to go first, this one second and so on," he adds. This technology makes it easier to align employees' performances with the company's overall strategy of being a fast-casual restaurant.
The Information Age
Article continues below advertisement
Some restaurants are even taking a step further, programming apps for tablets to produce analytic reports through orders, which can be sent to the management team at corporate headquarters for review. Technology use can also strengthen communication between franchisors, franchisees, and workers. In the past, quick-service brands like Taco Bueno would send recipes and manuals to restaurants and operators in paper form. These methods take some time and can be inconsistent from store to store.
But with the implementation of tablets managed by mobile device management company AirWatch, the company was able to transmit all recipes digitally with videos that kitchen staff could use to help create dishes consistently—a quality that customers look for (including Michelin food critics). In an attempt to reduce ramp-up time, the technology was also used to push recipes to line cooks, so they don't have to memorize recipes and food preparation policies.