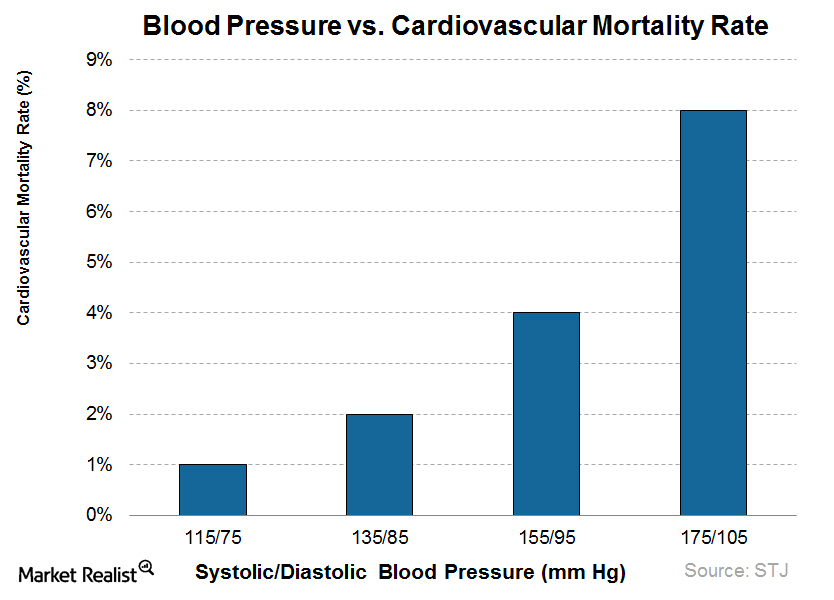 Is renal denervation a new medical device stocks cash cow?
By Amritpal Khalsa

Oct. 16 2013, Updated 12:22 p.m. ET
What is renal denervation?
Renal denervation is a minimally invasive procedure that uses radiofrequency ablation to treat hypertension. (Hypertension is persistent high blood pressure). The radiofrequency pulses affect the arteries and nerves in the vascular wall, denervating them (that is, interrupting the nerve connection to an organ). Denervation reduces renal afferent and efferent activity, reducing blood pressure. This procedure is for patients whose blood pressure wasn't previously controlled by any combination of medication.
No US companies have approved renal denervation devices in the US market, but they're in the process of testing and selling these devices.
Article continues below advertisement
St. Jude Medical (STJ) has enrolled patients in its EnligHTN III trial to evaluate its next-generation denervation devices. Medtronic (MDT) is also working on a device to poise itself in the renal denervation market. Both companies have their respective devices approved in Europe and are well invested in the market.
Other device makers have also followed in the renal denervation market, such as Covidien (COV), which bought Maya-Medical for $60 million, and Boston Scientific (BSX), which paid a total of $425 million for Vessix Vascular.
According to the National Health Survey, 25% of adults have high blood pressure. This proportion is expected to increase as baby boomers age. Plus, 15% of hypertension patients claim to be resistant to medications.
Growth expected
Analysts forecast the global renal denervation market to grow at a CAGR (compound annual growth rate) of 42% from 2012 to 2016. Medical device companies have invested capital into the market, expecting increasing incidence of hypertension and an increasing elderly population. Analysts expect the procedure to be a huge boost to revenue, as the market for minimally invasive procedures is ever-increasing, as is the population of people claiming medication doesn't work for them. Hypertension is also the leading attributable cause of death worldwide.